Event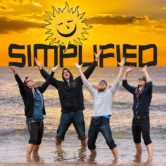 Holy City SwimJam featuring Simplified
Venue:

Saturday

Doors:

1PM – 6PM
Tickets are $15..Doors 1PM Show at 1:30PM All ages welcome
The Holy City SwimJam is honored to support Operation Restored Warrior as our 2018 beneficiary.
ORW Logo_large.PNG
The cost of sustaining the freedoms we so cherish as a people and a nation are increasingly carried upon the shoulders of the men and women of our Armed Forces. Operation Restored Warrior (ORW) was established in 2008 to meet the needs of our Military men and women who are suffering from Post Traumatic Stress Disorder and Combat Related Stress. Their battles are real, the life wounds often deep, and never has a clear path to restoration been more needed yet found so scarce. Through counseling with experiential, multi-day encounters in a ranch & wilderness setting, these wounded warriors are taken through a process of restoration and healing.
Operation Restored Warrior is open to all faiths and brings together mission, healing, and ministry to places and memories within the warrior's heart that need the hope, the healing, and the power of God.
Each participant's food, activities, program supplies, and lodging is covered by ORW. Travel is the only cost covered by the attendee. Currently 95% of donations are spent on conducting programs for the warriors. Currently no team member receives a salary.
To date, no military member has had to pay to attend our life-changing program.
Event Website: https://swimjam.org
Triangle Bluegrass: 1:00-2:15pm https://www.facebook.com/trianglebluegrass/
The Natty Grass Band: 2:45-4:00 https://www.facebook.com/nattygrassband/
Simplified: 4:30-6:30pm https://www.simplifiedmusic.com