Event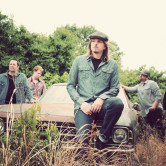 Jason Lee McKinney
Venue:

Thursday Night

Doors:

9PM

Tickets Available at Door
Tickets are $5 at the door. (Doors 9PM)
Jason Lee McKinney has been the "next big thing" since he started writing and recording
music, but life has always intervened: now, McKinney is writing about that life,
and it is more real and powerful than ever.
http://www.jasonleemckinneyband.com
He is the type of musician who is becoming the face of the new music business:a vocalist, guitarist, and songwriter. He has been signed to two major record deals played over 1,500 shows, released five full-length albums and two EPs, and
had four moderate hits on three different charts.
In fact, it is hard to imagine that with as much as he has worked and recorded, McKinney is not a household name yet. However, in 2006 while recording a new album, McKinney suffered two of life's biggest losses on the heels of each other: first, his father died of cancer; and then, his high school sweetheart and wife of fourteen years filed for divorce. It seemed like the music left him, too. For the first time since the age of ten McKinney was not involved with music—he did not sing, he didn't play, he didn't write, he didn't even listen. About a year after the divorce, however, he was going through his father's records when he stumbled upon a stack of old Bob Seger albums. "I was reminded that I knew every word to every song," he says. "Bob wrote about the human condition, common experiences everyone
faces and appeals to people from all walks of life for the long haul." He kept listening to the music
of his childhood— Seger, Willie Nelson, Johnny Cash, and Waylon Jennings— opening the door wide enough for music to come back to him. It challenged me to just write whatever would come out and not think about selling records or radio, or demographics, just frigging write from the heart, from the pain, from the soul. " McKinney recalls."I just came to the realization that it is in me, for better or worse like a marriage, music— performing and being creative is just who I am." It was then that McKinney began to methodically, cathartically, and honestly tell his story in song.