Event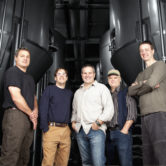 JUPITER COYOTE (Sunset Beach Concert) an Evening With…
Venue:

Saturday

Doors:

06:30 pm – 09:30 pm
Tickets are $20…Doors 6:30PM Show 7:30-9:30 (No Opener)
All Tickets purchase After April 30th will only be valid for the Outdoor Show….
This Show will take place outdoors on our Volleyball Court.  If for any reason this event needs to be moved inside The Windjammer only the first 500 tickets sold will be valid. Tickets not valid (If moved indoors) will be labeled and marked at the time of purchase and will be automatically refunded to the Credit Card used for purchase.This show is all ages
In the course of their 27 year history, Jupiter Coyote has played over five thousand shows, traveled everywhere and done just about everything a touring band can do. The innovative group has independently sold well over half a million CDs, tens of thousands of downloads, and who knows how many bootlegs loose to fans for free. JC is brand name and still trucking along, despite today's ever-changing, increasingly unpredictable music scene.
JC plays it the way they feel it — with little regard as to where they fall between the cracks of what is considered trendy and fashionable. A band prolific in its writing, skilled in its musicianship and congenial in its nature, they remain the prototype of the truly independent band.
Coyote has shared the stage with The Allman Brothers Band, Dave Matthews, Widespread Panic, String Cheese, The Radiators and Kansas just to name a few. They have played large festivals from coast to coast, including: High Sierra Music Fest in California, Charlotte's Center City Fest, Atlanta's Mid-Town, Birmingham's City Stages, Asheville's Bele Chere and The Magnolia Fest in Live Oak, Fla.
The group traces its roots to Brevard, N.C., where childhood friends Matthew Mayes (guitar, guijo, vocals) and John Felty (vocals, guitars) decided in 1990 to pursue a career in music. The duo headed to Athens, Ga., where they joined forces with bassist Sanders Brightwell. Steve Trismen (vocals, fiddle) joined the fold in 1999. A native of Boulder, Colo., Trismen's playing melded neatly into the band's sound and gave Coyote a new on-stage dynamic. Tasteful and intense, the group's jams extend higher and the melodies — combined with Mayes' guijo (banjo neck, Stratocaster body) and Felty's slide guitar — create a revolutionary sound truly all their own. Lot's of vocal harmony and clever song writing set these guys apart from the rest of the banal, jam band pack. There is no band that sounds like Jupiter Coyote.
In essence, Jupiter Coyote is a musical stew with members adding their own individual flavor to the mix. The band is the new twist in southern rock and they deliver it with a relaxed, worldly view. Their sound has been labeled "Mountain Rock" — a mixture of Southern Appalachian boogie, bluegrass-infused, funk-rock.
Unlike many touring bands, JC rarely repeats a set from show to show. True to their self-determined "independent band" status, Jupiter Coyote handles all operations themselves. Currently, the band is recording its 8th studio album which should be released in the Spring of 2018. Tour dates for 2018 are in the works now.