Event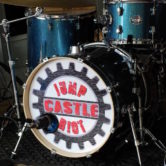 Jump Castle Riot W/ Elizabeth Covington
Venue:

Tuesday Night

Doors:

7PM – 12AM

Tickets Available at Door
Ticket are $5 at the door…Doors 7PM Show at 8PM
ALL AGES
Jump Castle Riot is a blues/rock band from Charleston, SC. The group has been described as having "effortless chemistry" and an explosive sound. "These kids have serious talent," says Atlas Road Crew drummer Patrick Drohan. (Jay's mom put it another way – "Jump Castle Riot plays really loud.")
The band consists of Nina Murchison (vocals), Jay Van Raalte (guitar / vocals), Asher DiBernardo (drums), and Richard Hartnett (bass). After meeting Nina in early 2015, Jay called up former bandmate Asher to form Jump Castle Riot. The group is rounded out by Richard, who teaches English at Trident Tech when he's not playing bass. The band has been hard at work. Appearances at the Pour House, Taste of Charleston festival, and Patriot's Point as well as a variety of bars, restaurants, and special events have put the band in front of thousands of people. Fortunately, they have been up to the task. This band has a sound that will stop traffic – or has at least proven to stop conversation in major bars in Charleston.
Jump Castle Riot hasn't done this in a vacuum, of course. They credit growing up in the supportive, unique Charleston music scene as a major influence. This influence has given the members incredible opportunities to learn and play with a variety of folks, including members of The Travelin' Kine, Dead 27's, Atlas Road Crew, Elise Testone, Thomas Champagne, and blues legend Buddy Guy, among others.
Word about the group is spreading quickly around the area, which is bringing JCR to more venues more often. Get in on the riot now!
Website
http://www.jumpcastleriot.com