Event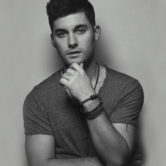 Jerry Jacobs Band
Venue:

Friday Night

Doors:

9PM – 01:30 am
Tickets are $7 Available online or at the door…Doors 9PM show 10PM
"'Maybe Tonight' by Jerry Jacobs may be your new favorite song," writes Whiskey Riff. The popular country music and lifestyle blog has Jerry Jacobs' debut single "on repeat, all day."
Country artist and songwriter Jerry Jacobs landed onto Nashville's music scene in early 2014, and has been making noise in Music City and across the nation ever since. Hailing from the coast of the Carolinas, the Charleston native draws influences from country legends and 90's rock hit makers alike. "My first musical experience was a Hootie and the Blowfish concert when I was 5," explains Jacobs. After finding his musical calling as a child, he immediately fell in love with the stage – a love affair that continues to this day and is apparent in his electrifying performances.
http://www.jerryjacobsmusic.com
Only weeks after graduating from Clemson University, Jacobs scored gigs at some of Nashville's most famous honky tonks. After putting together a band and breaking in his boots on lower Broadway, Jacobs hit the road to the tune of 250 shows a year. Jacobs and his band are nationally renowned for a high-energy live show that seamlessly drifts across genre lines and feels like a Saturday night dirt road dance down memory lane. It has captivated audiences from coast to coast as Jacobs has headlined shows from New Jersey to San Diego, and almost everywhere in between.
Jacobs' love of performing is only rivaled by his passion for songwriting. Diving headfirst into Nashville's iconic songwriting community was intimidating at first. "It was absolutely crazy and incredibly nerve-wracking to sit in a room and work with the writers of my favorite songs growing up," Jacobs explains. A devotion to well-crafted songs has awarded Jacobs multiple opportunities, including a song placement on a major TV network and interest in his songs from major and up-and-coming artists alike.
Jacobs' first single 'Maybe Tonight' was met with glowing reviews and sparked interest in the young artist's energetic blend of country and rock. Whiskey Riff comments, "It's fresh and fun but still has a bit of twang to it." The overwhelmingly positive response sent Jacobs right back into the studio to work on a full-length record. Jacobs comments, "I love and have lived every song on this record, and I couldn't be more excited to share them." The highly anticipated full-length release is expected early 2017, but until then audiences can experience Jerry Jacobs' live show in the heart of Music City or in venues around the country. If 'Maybe Tonight' "may be your new favorite song," Jerry Jacobs might be your favorite new artist.