Event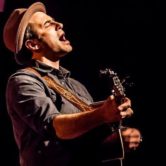 Joshua Davis of the Voice W/ Connor Christian
Venue:

Thursday Night

Doors:

9PM – 01:30 am
Ticket are $10 Advance $12 DOS (Doors 9PM Show at 10PM)
Joshua Davis was raised in the folk tradition: the music, the social movements, the land. He writes songs that blend the roots of American music with gritty rock n' roll and vintage soul. Performing Songwriter Magazine called the result, "Some of the liveliest and most rocking roots music around.
The Voice 2015 Joshua Davis and Adam Levine – Live Finale: "Diamonds on the Soles of Her Shoes"
https://www.youtube.com/watch?v=kBbHD-ltPm0&feature=youtu.be
http://joshuadavismusic.com
http://thesoutherngothicmusic.com
For over 15 years Joshua has made his living sharing his songs, stories and knowledge across the US and Canada at festivals, concert halls, coffeehouses and dives – as a solo act, front man for roots ensemble "Steppin' In It", classic swing band "Shout Sister Shout", songwriter showcase band "The Starlight Six" and frequently as a workshop facilitator, presenter or instructor.
His music is steeped in ragtime blues, sweet jazz and real country but Davis's broad schooling in the cultural, political and musical roots of American tradition has resulted in more than a simple retelling of universal themes. Dubbed, "the Michigan version of the Great American Songscape" (Chris Reitz, Elderly Instruments), his catalog is a seamless snapshot of American past and present. Joshua has shared stages with a diverse list of luminaries, such as Tim O'Brien, Greg Brown, The Indigo Girls, Leftover Salmon, The Dixie Hummingbirds, Corey Harris, John Gorka, Jeff Daniels, Ellis Paul, The Blind Boys of Alabama, Jimmy LaFave, Ray Bonneville, Arlo Guthrie, Abigail Washburn, Larry McCray, Sunny Wilkinson, Catie Curtis, Bill Kirchen, Peter "Madcat" Ruth, Bernie Leadon, Wayne Hancock, The Verve Pipe, John Hammond, Pete Seeger and Preservation Hall Jazz Band.
Davis has released three critically acclaimed solo albums, five albums with Steppin' In It, a record of jazz standards with Shout Sister Shout, and has appeared on too many albums to count. His most recent album, "A Miracle of Birds" is inspired by his travels in the Palestinian West Bank with non-profit organization On the Ground. About the album, Revue magazine says, "His heartfelt documentation of 'people as people' offers up compassionate songs of hope, darkness and perseverance."
Joshua has performed live on the internationally syndicated programs Mountain Stage, Woodsongs Old-Time Radio Hour and Backstage Pass. His songs have been featured on NPR's All Songs Considered, Folk Alley and The Mix and he has played scores of prestigious festivals and venues not to mention every festival Michigan has to offer.
His music receives regular airplay across the US and has been heard in at least 180 countries. His records have consistently appeared on major independent and free-format radio charts. Among other honors, "Fool Rooster" earned the album of the year slot from Progressive Torch and Twang, a cult favorite Americana show on WDBM, "Magnolia Belles" won Americana album of the year from WYCE, "Simple Tunes for Troubled Times" was one of Folk Alley's best albums of 2009 and Shout Sister Shout's "Hit That Jive" reached #1 on the Roots Music Report jazz chart and was the longest charting jazz album of that year.
Davis has gained recognition as an enthusiastic and successful songwriting and guitar instructor and folk historian. He has studied under greats such as Guy Clark, Steve Earle, John Hartford, Greg Brown, Tim O'Brien, Lyle Lovett, Michael Smith, and Tom Paxton and Dr. Bruce Conforth as well as Bela Fleck, Casey Driessen, and Roy Book Binder.
Joshua is a respected producer and has built a small but excellent home studio, pointing to his work with Grammy and Oscar winning producers and audio engineers Glenn Brown, Sally Van Meter and David Glasser.
Josh is especially interested in the ways in which music brings individuals and communities together, to foster peace and understanding. He's noticed that songs can re-soundtrack people's lives and peoples' lives too. In February of 2012, he travelled to Palestine and Israel with non-profit org On the Ground to participate as "cultural emissary" in the Run Across Palestine, a fund raising ultra-marathon in support of fair trade farming communities in the West Bank.
Davis has just released "A Miracle of Birds", an album inspired by his experience in the Holy Land. Half of the proceeds will mean olive trees and educational scholarships for the farmers and families he encountered during his travels. The songs are deeply personal and deal with his struggle between his Jewish identity and the oppression and confusion he found in the Middle East. Josh brings a unique program to schools and communities that combines his music and stories about the trip as well as club dates with a world-class six-piece band.
His greatest honor as a writer came recently when the Michigan Historical Museum recognized his work in "Put It On Paper", an exhibit examining the creative process alongside legendary creative minds such as Ernest Hemingway and Laura Ingalls-Wilder.
He lives in Traverse City, Michigan with his lovely and brilliant wife, daughter and new son.