Event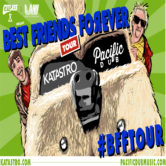 Katastro & Pacific Dub
Venue:

Thursday Night

Doors:

9PM – 01:30 am
Tickets are $10.. Doors 9PM Show at 10PM
Katastro
Hailing from the desert of Tempe, Arizona, the members of Katastro gather to create a unique sound, blending elements of rock, funk, blues and hip hop. Formed in 2007 by vocalist Andy Chaves, drummer Andrew Stravers and guitarist Tanner Riccio, later joined by bassist Ryan Weddle, Katastro has been gaining a lot of exposure while impressing their peers at the same time. Opening for national acts such as the 311, Bad Religion, Awolnation, Dirty Heads, New Politics, Method Man, Redman, Ghostface Killah, Tomorrows Bad Seeds, and Passafire, they continue to pull in their audience with their intriguing and entertaining live show.
In 2008 the band released an EP entitled "The Facts". Followed by "Poking Holes In A Pattern" produced by Bob Hoag, which was released in late 2009. In October of 2011, Katastro released their 4th studio album entitled "Gentle Predator".
Katastro has gone on national tours with such acts as Tomorrows Bad Seeds, Passafire, and Pacific Dub. They recently relocated to southern california and are currently working on their next album.
Pacific Dub
Coming from Surf City USA, Pacific Dub resides in Huntington Beach which is nestled nicely in southern California's Orange County. Other bands such as Korn, The Offspring, Avenged Sevenfold, and The Dirty Heads all have members that call this surfer's paradise home.
http://www.pacificdubmusic.com
Combining catchy chorus's, heavy rock n' roll guitar melodies, and smooth hip-hop and reggae rhythms are all significant characteristics that add to Pacific Dub's coastal vibe, and genuine objective of creating innovative alternative-rock-reggae while sharing a message of love and peace.
From the entire Pacific Dub family, we thank you for your continued support, and look forward to releasing new music and seeing you at a show soon.