Event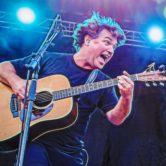 Keller Williams
Venue:

Friday Night

Doors:

9PM

Tickets Available at Door
Tickets are $20..Doors 9PM Show is 10PM…No Opener…This is an Early Show
Biography
Keller Williams (born February 4, 1969) is an American rock, jam and progressive bluegrass singer, songwriter and multi instrumentalist from Fredericksburg, Virginia, U.S.
Williams received his first guitar aged three however never really learned to play the thing until in his early teens. He soon began to develop a knack for the instrument and was inspired to play listening to new age guitarist Michael Hedges, who influenced Williams' entire approach to guitar. Following a major in theatre at Virginia Wesleyan College from 1988 to 1991 the musician release his debut album "Freek" in 1994.
Shortly after Williams packed his things and headed to Colorado, U.S. where he met the progressive bluegrass band String Cheese Incident at the Telluride Bluegrass Festival and ended up supporting the band on their tours in 1997 and 1998. In 1996 Williams' sophomore album "Buzz" appeared after which the musician signed to String Cheese Incident's label SCI Fidelity through which he released he third LP "Spun" in 1998.
Notorious for his single titled albums, Williams has had no shortage of creativity or inspiration releasing albums once or more a year including, "Breathe" in 1999, "Loop" in 2001, "Laugh" in 2002, "Dance" and "Home" in 2003, "Stage" in 2004, the DVD "Sight" in 2005 and "Grass" in 2006.
Noted for his enviable one man show, Williams has become a staple item at many festivals. Popular for his on-stage looping system, homemade 10-string guitar, upbeat, accessible, weirdly-surreal songs along with his unthreatening tenor voice, Williams has become an affectionately eccentric progressive musician.
In 2007 he released his 12th CD understandably titled "12", "Odd" followed in 2009, followed by "Thief" and "Kids" in 2010. Williams has subsequently released "Bass" in 2011, "Pick" in 2012 and a pair of albums "Keys" a Grateful Dead cover album and "Funk" in 2013.
Live reviews
Keller Williams is an extremely talented and thoughtful performer. In case you aren't familiar with his work, he's a percussive guitar player who uses loop pedals and anything at his disposal to create truly unique and entertaining music.