Event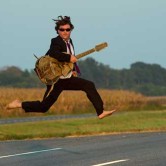 An Evening with Keller Williams "No Opener"
Venue:

Saturday Night

Doors:

8PM

Tickets Available at Door
Tickets are $25…(Doors 8PM)
…Early Show…
Since he first appeared on the scene in the early '90s, Keller Williams has defined the term independent artist. And his 16 recordings tell only half the story. Keller built his reputation initially on his engaging live performances, no two of which are ever alike. Williams' solo live shows—and his ability to improvise to his determinedly quirky tunes despite the absence of an actual band—quickly became the stuff of legend, and his audience grew exponentially when word spread about this exciting, unpredictable performer.
Official Website: www.KellerWilliams.net
Facebook: https://www.facebook.com/kellerwilliams
YouTube: http://www.youtube.com/kellerwilliamsmusic
Soundcloud: https://soundcloud.com/kellerwilliams
Today, whether performing as a one-man band (a stage show constructed around Keller singing his compositions and choice cover songs while accompanying himself on an acoustic guitar connected to a Gibson Echoplex delay system that allows him to simulate a full band), with a backing band (of which he has many – Keller and The Keels, Williams with Moseley, Droll and Sipe, and most recently Keller Williams with The Travelin' McCourys and with his new six–piece outfit More Than a Little, among others), or solo acoustic with simply he and his guitar, Keller always reveals himself as an artist of great stylistic breadth and infinite imagination.
He is a singer, songwriter and musician, always on a quest for the new. Keller Williams has never followed the prescribed path laid out by the conventional music business but rather one of his own making. It's a path that has served him well.