Event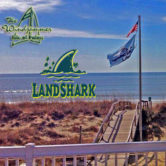 Hans Wenzel & the 86's (The Landshark Deck Series) 6-9
Free on the Deck…6PM – 9PM
$2.75 16oz LandShark Draft during Happy Hour and $3.75 anytime the LandShark Deck Bar is Open
With an affinity for the early Motown sound & 60's British invasion groups that influenced him early on, Hans Wenzel has been on a search for a sound all his own. With a guttural, sandpapered voice, simple guitar melodies, and a few memorable stories, he has, at long last, found himself in his music. Listen & enjoy… see if you can hear a sound that is uniquely Hans.