Event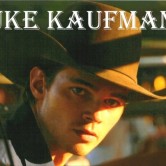 Luke Kaufman
Venue:

Saturday Night
Cancelled due to weather
For Luke Kaufman, Chris LeDoux set the standard for what "Cowboy Music" should and could sound like, winning over cowboy and non-cowboy fans all across the country through the entirety of his career. Luke knew music was his passion. He started out paying his dues playing behind rodeo arenas and in parking lots for his friends and family after rodeos and bull ridings across the Southeast.
After high school and through college, his passion for music stayed the same, and from then on things really picked up for the Carolina Cowboy. In 2008, Luke Kaufman teamed up with Sunny Ledfurd, a North Carolina artist who had put out a record for the PBR(Professional Bull Riders) a few years prior and was well in with the cowboy world and understood the type of music that Kaufman wanted to make, and Ledfurd didn't mind breaking rules to do it.
In January of 2010, "Cowboy Baller", Luke's first album, was released with the help of Ledfurd Recurds and has swept the rodeo and bull riding world. The music can be defined as, true cowboy songs that are coming from the perspective of a real-life cowboy. All the songs from the album are first-hand accounts from Kaufman's life as a cowboy. The October 2012 release of Kaufman's second album, "Beyond The Bunkhouse" showed his versatility, creativity and maturation, all while sticking to his cowboy roots. Luke has shared the stage with well-known songwriters from Nashville to PBR Superstars such as Justin McBride and Colby Yates. One thing is for certain, you'll be hearing Luke Kaufman's music in and around the rodeo and bull riding world for years to come.