Event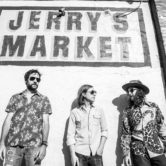 Mac Leaphart with The Kenny George Band
Tickets are $10…Doors 9PM show time is 10ish
Splintered from the foundations of The Rolling Stones, Chuck Berry, and John Prine, Mac Leaphart is an artist who puts the song first. Leaphart's live band, My Ragged Company, takes an austere and bare bones approach to performing; guitar, bass, and drums, with Leaphart handling all the lead guitar work. Leaphart's live sound was developed over years of playing in bars around the Southeast; the kind of honky tonks and dives where if the crowd gets bored, bands don't get asked back. Leaphart has sweated through his share of marathon sets, often performing over three hours without a break. Along the way, Leaphart has shared the stage with some of his biggest influences, as well as some contemporary troubadours, including Billy Joe Shaver, Ray Wylie Hubbard, Hayes Carll and Ryan Bingham. Leaphart released his first solo record, "Line, Rope, Etc," in 2008. It was named one of the best albums of the year by the Charleston City Paper. In November of 2011, Leaphart was sidelined from performing for 6 months, after neurosurgery to remove a brain tumor. He began playing again in the summer of 2012, and in November of that year, he moved to Nashville, where he hosts a songwriters night, "Southpaw Supper Club." Leaphart released his sophomore album, "Low in the Saddle, Long in the Tooth," in February 2015.
Music's elders and icons established the initial template for Rock 'n' Roll, but it's the newer generation that keeps it thriving and moving forward. So credit the Kenny George Band for doing exactly that. Comprised of Kenny George (lead guitar, vocals, songwriter), Bucky Brown (drums, harmony vocals), Center Ely (steel guitar), Brooks Andrews (bass) and Scott Rankin (rhythm guitar, harmony vocals), this hardworking ensemble has earned their stripes the hard way. Performing an average of 150 to 180 shows per year throughout the heartland, they bring their music to the masses one gig at a time.
http://www.kennygeorgeband.com
"Our goal has always been to connect with our audiences," George insists. "Our music is honest and organic, and we deliberately avoid pretence. We may seem like a ragtag bunch, but there's a passion, purpose and sincerity that underscores everything we do, and hopefully that's apparent even the first time you hear us play."
Hailing from Aiken, South Carolina, the Kenny George Band has created an indelible impression with fans throughout the Southeast and Midwest, playing 250 concerts in the last two years alone. They've travelled the highways and byways between North and South Carolina, Tennessee, Virginia, West Virginia, Alabama, Georgia, Pennsylvania and Missouri, reconnecting with their fervent followers and picking up new fans along the way. Their explosive live performances have made them a band on the brink of a breakout, and it's little wonder that in 2016, they were voted South Carolina Artists to Watch by the South Carolina Music Guide.
Tempered by the time they've spent on the road, the band's latest album, Borrowed Trouble, looks at life, longing and relationships through the vast spectrum of constant tours and travel. Like the road itself, it dips and sways, advancing not in a straight line, but rather in a series of circuitous twists and turns that reveal a uniquely personal perspective every step along the way. These are songs infused with tattered circumstance and a view of life as seen looking out the windows of one's touring van, where miles of highway offer plenty of time for reflection and contemplation. The music is underscored by a drive and determination that makes it both engaging and enlightening in equal measure. It's melodic, it's measured, and it's often gritty, but it's a sound that resonates in ways that are both tender and tenacious.
That's no accident. George himself has been drawn to music most of his life. He picked up the violin at the age of eight, but didn't take to formal lessons, so he then took up bass. Eventually though, he decided that guitar would be the better match. "My dad told me that the guitar players get all the girls," he laughs. "So he bought me my first guitar as a gift when I graduated from junior high. I learned to make music on that guitar and I'm pleased to say I still have it to this very day."
Inspired by the sounds of the burgeoning Americana movement — bands like Whiskeytown and Wilco, and later the so-called "Outlaw" country clan — indeniable icons like Willie Nelson, Merle Haggard, George Jones, Kris Kristofferson, John Prine and Townes Van Zandt — George later immersed himself in probing the roots of the rock and country crossover, exploring the Southern California singer/songwriter scene by way of Jackson Browne, the Eagles and J.D. Souther. He attended the University of Montevallo in Alabama, majoring in classical guitar and later studying special education for the deaf and hard of hearing. Forced to drop out after losing his funding, he turned his attention to writing songs. That's when he met drummer Bucky Brown and the two decided to start a band. Relocating to Aiken, they found pedal steel player Center Ely, who George describes as shy and unassuming, but a wiz when it comes to fixing their gear. At first they played covers while honing their chops in the local bar scene, then began phasing in original material as well. "We went through bass players like Spinal Tap went through drummers," George chuckles, referring to the continuing need to fill that anchor spot. "When we found Brooks, we knew we had the right guy. It was worth going through half a dozen candidates just to find the one that fit."
The last to join was guitarist Scott Rankin, an acquaintance of Kenny's who had asked him to fill in for a show when Rankin's second guitarist had to bow out of the gig at the last minute. "Little did I know, we would play a four hour show," George recalls. "But it did give us a chance to perform together and that inspired us to play together even more after that. We decided we sounded pretty good, and eventually I was able to coax him into joining our band."
In the interim, George took a brief hiatus in New York City to work with producer Damien Dash, but the cold New York winter, lack of opportunity and the steep cost of living prompted him to return home less than five months later. It proved to be a good decision, and with three releases under their belt — the Gunshy EP (their 2014 debut), Zac Brown Sessions (a prize bestowed as the result of winning a songwriting contest in 2013), and Live From Sky City (recorded in concert in Augusta, Georgia) — and their latest, Borrowed Trouble, set to release in late April, the Kenny George Band is poised to garner new admirers and consolidate an already ample following all at the same time.
​
​"It takes time to really make a mark," George reckons. "It's a slow process and there's a lot of work involved. However, as long as we can share our experiences and build relationships with our audiences, I feel we're making progress all along the way."