Event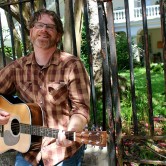 Matt Mackelcan "Our LandShark Acoustic Deck Series"
Venue:

Saturday Afternoon

Doors:

6PM – 9PM
Free on the back Deck  starts around 6:00
With his genuine combination of American soul and upbeat rock & roll, Matt MacKelcan has emerged as one of the most prominent indie front men out of the southeastern U.S. He first broke into the music scene in the Orlando Florida area while earning
With a genuine combination of American soul and an upbeat pop-rock style, Matt has emerged as one of the go-to indie front men in the southeastern U.S. He first cut his teeth in the music scene of Orlando Florida during his time at Rollins College while earning a degree in vocals, composition and guitar. In 2008, Matt was lured to Charleston along the South Carolina coast—where his single "Drive" has been regularly featured on radio at 105.5 The Bridge. When around home, Matt also performs regularly at the iconic venue The Windjammer…perhaps best-known as a launchpad for Darius Rucker's Hootie & The Blowfish. Matt's trademarks are a big voice, authentic songwriting, personable nature and an extra dose of funny.
Matt's recently released EP Slow Down produced by Aaron Tap (Matt Nathanson) has garnered critical acclaim and is currently getting radio adds (AAA and College) with singles "Chances Are" and "So Far". Audiences are growing in all markets and the word of mouth on the EP and the entertaining live show have Matt and his band poised for a big 2011.
As his popularity spreads far beyond his roots, Matt's sophomore CD No Turning Back continues to meet embracing live audiences across the country—from Boston to Austin, from Park City to New York City. He's no stranger to crowds of thousands either, headlining with his band at college football's 2010 Capital One Citrus Bowl pregame event and many other Festival's nationwide Artscape,(Greenville, SC) Artisphere, (Baltimore), Dogwood (Atlanta), River Jam (Charlotte, NC)
While building his reputation as one of the hardest working musicians around, Matt received recognition in his early days by Singer Songwriter of America as the 2005 "Male Vocalist of the Year". In the time since, ample touring has given him the chance to share the stage with some of his own professional inspirations including Grammy-winning Blues Traveler, Matt Nathanson, Edwin McCain, Gavin DeGraw, Martin Sexton, Brett Dennen, Howie Day, Will Hoge, Jon McLaughlin, Bob Schneider, Rusted Root, Carbon Leaf, Bodeans, Virginia Coalition, and Third Eye Blind.
Recent career peaks include appearing for a third straight year at music's mecca, South by Southwest Festival and LA Film Festival, as well as a swing of openers through the country for one of modern country music's hottest artists, Corey Smith. Matt has also proudly participated in important benefit concerts supporting Haiti Relief and Amped 4-A-Cure. Otherwise, he's either jamming away in his favorite lowcountry joints or helping college crowds get their groove on up and down the Eastern seaboard.
Matt is pleased to maintain ongoing professional associations with Martin Guitars, ZonePerfect Nutrition Bars, Tsubo Shoes and Topo Ranch Apparel.
"Behind his cheerful, laid-back manner, Matt MacKelcan is a serious guy, most concerned about writing solid rock songs, performing well on stage and getting out there—way out there…(with his) melodic modern folk-pop style."