Event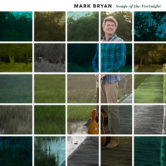 Mark Bryan CD Release Party W/Jenny Leigh
Venue:

Thursday Night

Doors:

9PM – 01:30 am
Tickets are $10 Advance $15 the Day of the Show…Doors 9PM Show at 10PM
The first time I hung out with Mark Bryan, he only talked about someone else's music. We were at Brooklyn Bowl in Williamsburg and Bryan was in town representing Stop Light Observations, a fellow Charleston, SC-based band that he manages.
Throughout the band's high-energy, mildly psychedelic set, I stood next to Bryan like a middle-aged hipster, while Bryan, in-between singing every word of every Stop Light Observations song, would occasionally lean over to enthusiastically tell me more about how much he loved the band. The evening solidified an impression about Bryan that first began to form when I'd ask other people from Charleston about him, and they'd happily say, "Oh, everyone around Charleston knows Mark!"
In actuality, everyone around the world probably knows a little bit about Bryan, whether they know they know or not. As the guitarist for the two-time Grammy winning, 10-million album selling band Hootie and The Blowfish, Bryan's guitar playing was ubiquitous in 1995, contributing to the biggest album sales of any release that year, and leading to what is now ranked as the 16th biggest selling album in music history.
Of course, success at that level brings with it all sorts of pre-conceptions, so when first hearing the tunes on Bryan's upcoming third album Songs of The Fortnight, (August 11th, Chucktown Music Group), I was surprised at the down-to-Earth songwriting that played as just-earnest enough to be relatable and believable, while also sounding like Southern hospitality.
What I learned at Brooklyn Bowl that took Songs of the Fortnight further into being a product of the guy that everyone around Charleston knows, was discovering that Bryan is a passionate and relentless fan of new music, with a special focus on helping new talent, and in particular new talent from his adopted hometown of Charleston, where he is generous with knowledge that only someone who has scaled the heights of the music industry can offer.
"Charleston is an amazing city in the middle of a remarkable renaissance," Bryan says. "I'm lucky to be part of its artistic and business growth. There are dozens of acts coming out of Charleston right now that are worthy of national recognition. Some you've heard of, and some you don't know about yet, but you can really feel it right now."
It was after Hootie went on indefinite hiatus almost a decade ago that Bryan first went full-force into other areas of the music business beyond being a musician (though he continued to keep his chops up with his trio The Occasional Milkshake which appears on Songs of the Fortnight.)
"I learned a lot about making albums over the years from the Dons: Don Dixon, Don Gehman, and Don Was," he explains of the three production legends who worked with Hootie. "Through that, the idea of producing talented artists with great songs, and helping them make timeless recordings, was very appealing to me, and something I quickly became very passionate about."
As Bryan began to amass production credits on dozens of recordings, he also took greater advantage of a situation that, unlike his experience of working in expensive facilities under constricting record label budgets, allowed him to use his own studio and personal resources to record and release songs on the fly – first his own, and then those of other artists.
This process eventually led to the launch of the "Song of the Fortnight" blog, where Bryan posted a new song of his own, or an artist he was playing with or producing, every two weeks, for three years. Eventually, there was enough material for an album, which are the 11 songs compiled here on Songs of the Fortnight.
The album features ten Bryan originals, and an opening cut that is another nod to Bryan's ease at throwing the spotlight; a barn-burning cover of Scruffy The Cat's college radio favorite "Mybabyshe'sallright" (featuring frequent REM collaborator Peter Holsapple on harmonica.)
The upcoming album functions as somewhat of a capper – the "Song of the Fortnight" blog could have continued indefinitely if Bryan hadn't received an offer to work for the College of Charleston, but the opportunity was right in line with his interest and continuing passion for elevating the local music community.
"The College of Charleston asked me to help develop their burgeoning Music Industry concentration," he explains. "It was a chance to translate years of experience in the music business to practical, useful knowledge for the next generation."
In addition to being an adjunct professor and artist in residence at the school, Bryan is also consulted on the hiring of instructors for the program's courses and developing the curriculum.
Furthering his community efforts, Bryan also teamed up with the esteemed local venue, the Charleston Music Hall to launch a television show "Live at the Charleston Music Hall," with the goal of bringing the venue to greater regional, and eventually national, prominence. Seven years later, the show is now the recipient of a regional Emmy for Arts and Entertainment in the Southeast and is prepping to launch on additional PBS stations nationwide.
Additionally, Bryan is heavily involved in Carolina Studios, a non-profit, afterschool, recording studio that he has been working with since his move to Charleston in 2000. The program allows children in low-income areas to have a songwriting and recording experience free-of-charge, and in a safe after-school environment."
"It's something I would have almost died for as a teenager," he says.
Now, Bryan's instincts for giving back are starting to extend beyond Charleston, which brings us back to Brooklyn Bowl and the night of the Stop Light Observations show, which just so happened to be a benefit for the College of Charleston School of the Arts.
"I have found that one of the best ways to learn something is to have to teach it, and I've learned more about the music industry from teaching it than I ever knew when I was only on the creative side," Bryan says. "When my friends in Stop Light Observations came to me with what was to be their second album, and I heard its absolute raw brilliance, I felt like I had to help share it with the world."
As Bryan continues to lend his part in helping to build Charleston, South Carolina into a rightful music mecca, he is also continuing to do what he's done since he was a teenager by writing songs and making music.
"I have been fortunate to get to pursue my passion throughout my career," he says. "My father taught me from a very young age to make a living doing something you love. I've always taken that approach to songwriting and performing, by giving everything I have to the process, regardless of where the song is stylistically. When you can bring a new, or different energy to someone else's idea, and help bring their songs to another level, it's almost as satisfying as when you write a great one of your own."
Mark Bryan's third album Songs of the Fortnight preceded by the single "Forgetting About Me" arrives August 11th via the artist's own Chucktown Music Group.
https://www.facebook.com/markbryanctmg/
http://www.jennyleighmusic.com
Jenny Leigh brings an edge to country music with soulful grit, larger than life vocals, and a blend of inspirations derived from rural MD, Baltimore City, Central North Carolina, and Nashville, TN.
Music has been the red thread through Jenny's life as she grew up performing in school plays, recitals, and musical theatre productions, and continued in college when she joined Elon University's a cappella group, Twisted Measure. Recently featured in People Magazine, USA Today, and Time, this award-winning group ignited Jenny's passion to combine her love for singing and writing to pursue a solo career.
Jenny returned to her roots with piano, learned to play guitar and mandolin, and began visiting Nashville frequently after graduation. While working at Baltimore's Under Armour headquarters in the marketing department, Jenny earned an East Coast following sharing the stage with some of today's biggest acts including: Dierks Bentley, The Eli Young Band, Joe Nichols, Gloriana, Jana Kramer, Cole Swindell, The Cadillac Three, to name a few. She gained the support of Baltimore's industry-award winning country radio station, 93.1 WPOC opening their Sunday in the Country Festival with the National Anthem multiple times. She performed at the world-renowned Preakness, Baltimore Marathon, and teamed up with Cam Newton and DJ Araabmuzik to deliver vocals for Under Armour's commercial "Cam's Night Out".
She caught the attention of talent scouts for the reality singing TV show, "The Next" and ended up as a finalist under mentorship of John Rich of Big & Rich. John advised Jenny to move to Nashville and kick her career into high gear ASAP, which is what she did. She raised 100% of the funds needed to record an EP in music city, and moved to Nashville with co-writers, Adam Wakefield, and Ryan Sorestad.
Jenny was selected to perform on one of the main stages of CMA Festival her first summer in Nashville as an unsigned artist. She went on to win the Nashville Emerging Star Songwriting Competition to open for Little Big Town, currently tours as a vocalist with Adam Wakefield, who is the Season 10 runner-up of The Voice, and works behind the scenes on CMT's show, "Nashville". Jenny has been a guest of WSMV's Channel 4 show "Today in Nashville" where she has performed her songs "Old Oak Tree", "Boots Off", and debuted her recent single, "Spitfire." Look for new releases in 2017!
"I am in love with Nashville and the inspiration that comes from the people within it. I feel incredibly honored that my journey as brought me to a home where I can walk alongside the greats and strive to make an impact on this thing we so casually call music." – Jenny Leigh