Event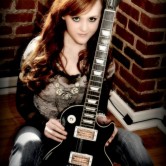 McKenna Andrews on the Back Deck
Venue:

Friday Afternoon

Doors:

6pm – 9pm
Hailing from Charleston, SC, McKenna Andrews is setting the music universe on FIRE with her EP 'Who Knew' and her single cover of Me & Bobby McGee.
"Prodigious attaches to the talents of McKenna Andrews like cool on an Eric Clapton solo." Andrews is a teenager and she's downright wicked with a guitar and she also sings with a command light years beyond her age. She can definitely bring it with a 2.5 octave vocal range, a stage presence that sizzles and a style that's all her own!Proof emerges within her newly released three-song EP "Who Kn
ew," written by McKenna and produced by 4X Grammy Nominated Producer, Travis Wyrick. Released in December 2011, the album features Andrews at full rocking throttle on "That's How I Roll" bookended by ballads "Still Letting Go" and "Who Knew." The CD caught the attention of Scott Borchetta, and a meeting was set up in Nashville where Scott offered McKenna advice and direction for honing her talents and learning the music business.
Andrews has appeared in magazines, newspaper articles, and network television interviews and include; Mississippi Magazine, Chicken Soup For The Soul, G7 Girls Magazine, Reader Digest, Weekly Reader, Entro Magazine, Music Trades Magazine and Guitar Player Magazine. She has appeared on CBS Radio with The Former Vice President of Capitol Records & The Father of WoodStock, Artie Kornfeld. McKenna has achieved radio play in Canada and The UK and she's performed over 100 live shows to include venues such as: The Hard Rock Cafe, The Nashville Palace, Smoky Mountain Brewery, The NAMM Show, The Vietnam Veterans Homecoming, Bristol Motor Speedway, Atwood Music Festival, The Listening Room, The Commodore Lounge, The Rutledge, NASCAR Race Nights and etc. Andrews has performed with or shared the stage with Randy Houser, Great White, Matt Stillwell, Firehouse, Brett Eldridge, Britny Fox, Michael Kelly Smith, The Veronicas and etc. She appeared in the PBS documentary 'Beyond Katrina' and filmed a role in a reality show with NBC..
McKenna's latest release is a cover of Kris Kristofferson's 'Me and Bobby McGee.' Andrews' brings a fresh style to this Janis Joplin classic. Aside from music, this 17 year old is an avid archer, hunter, wake boarder and an animal lover.
McKenna is sponsored by: PreSonus, Boulder Creek Guitars, QSC Audio and GraphTech Guitar Labs.