Event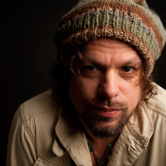 "Michael Glabicki and Dirk Miller of Rusted Root" Outdoor Deck Show
Venue:

Thursday Evening

Doors:

7PM – 10PM
Tickets are $10…Doors 7PM.. Show to follow..This Acoustic show will be an Outdoor Deck show. Weather permitting
"A song is an organism that has a history and has different meanings to many different people," says Rusted Root lead vocalist/guitarist/songwriter Michael Glabicki. "Those people attach themselves to this organism and because of that, it's a ritual, a way to jointly go places."
Rusted Root, the multi-platinum sextet out of Pittsburgh, evolved around front-man Michael Glabicki's distinct sound and grew into a musical entity that has thrived in a non-genre specific category all its own. Rusted Root built their career around dramatic performances; their polyrhythmic, multicultural rock-and-soul picked up fans like a junkyard magnet as they swept across the nation on tour. Having just released their 8th studio album, The Movement, Rusted Root continues to maintain a strong foothold in the world/jam/rock world.
In addition to the two decades with Rusted Root, Glabicki is exploring new sounds and opening new doors with his solo carrer. He has started touring nationally as a duo act, and explains that although he has his roots with Rusted Root, the sound is very different.
Glabicki has always invited the audience to participate in the creation of Rusted Root's music. He frequently tests new songs on the road to see the fan reaction. Constantly writing new material, Glabicki finds that some of it fits his solo sound better than Rusted Root's.
Glabicki currently routes his solo tours around the Rusted Root schedule, and has multiple performances throughout the year. While not on tour with Rusted Root or working on his solo career, Glabicki also has started his own studio, Red Cloud in Pittsburgh. What started as a place for him to write and record new songs, has now grown into a full scale studio where local musicians can rent space to work on their new albums.
A multifaceted musician, producer and songwriter, Glabicki's talents are unique and extremely uplifting. His solo tour dates and new music are extensions of his creative talent, and will inspire all those who participate.