Event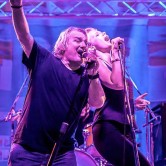 Mike Veal Band
Venue:

Friday Night

Doors:

9PM – 01:30 am

Tickets Available at Door
Tickets are $5 at the door (Doors 9PM show at 10PM)
The Mike Veal Band plays a hot combination of blues, rock, funk and fun! Diverse musical backgrounds and regional influences color each member's contribution to the tight sound for which the band is loved.
​
Atlanta partiers and club patrons throughout the Southeast know Mike and the guys deliver a killer show every time. Check out the Calendar page, and don't miss the band next time they're in your neck of the woods!
​
Need a performance group for your next party, wedding or corporate event? You won't be disappointed with The Mike Veal Band on your stage. Contact us for booking information. Make your plans now to have Atlanta's favorite party band on hand for your next function!