Event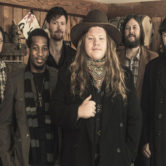 The Marcus King Band
Venue:

Monday Night

Doors:

9PM – 1PM
Tickets are $7…Doors 9PM Show at 10PM
Young songwriter Marcus King's debut album, Soul Insight, out now via Evil Teen Records, displays his stunning command of rock, blues, psychedelia, funk, soul and improvisation — all with a distinctly Southern musical accent. It also brings the 19-year-old a step closer to his musical destiny.
https://www.youtube.com/watch?v=CRpOqZqlHRY&list=PLPh3DTNT0ET6KCaCkTTEoyxSej8QAhqx-
http://MarcusKingBand.com
http://Facebook.com/TheMarcusKingBand
http://Instagram.com/TheMarcusKingBand
http://Twitter.com/MarcusKingBand
http://YouTube.com/TheMarcusKingBand
"I guess I knew I was born to play guitar when I was seven," King says. "That's when I got my first electric guitar, and while all the other kids were outside playing, I'd be inside on that guitar. When I got in trouble in school, my daddy said I could choose between a spanking and getting my guitar taken away for a week. I took the spanking."
Soul Insight is the explosive result of that dedication, magnified by another dozen years and more than a thousand nights playing in clubs — initially alongside his father, bluesman Marvin King — since the age of 11, just two years before Marcus formed his own group and stepped into the role of leader.
King's talents and trajectory have already led his band across the country, and he's opening shows for the Foo Fighters, Johnny Winter and, of course, Gov't Mule and its leader, Warren Haynes. King emerged from his native Greenville, South Carolina, and its sister city Asheville, North Carolina, where Haynes was born. King hit Haynes' radar thanks to the reputation the young artist has earned with his incendiary live performances. In December 2014, King and his band were invited to perform as part of Haynes' annual Christmas Jam benefit, which occurs in Asheville's U.S. Cellular Center Arena, the prestigious club the Orange Peel and other rooms around the musician-and-artist-heavy mountain city. A few months before that, the Marcus King Band had recorded Soul Insight at the Compound Studio, just south of Los Angeles in Signal Hill, California.
"Recording the album was a really organic experience," says King, who also produced Soul Insight. "Whether I wrote the song or, in the case of the instrumentals, we developed them together as a band, we'd played them long enough so we were really comfortable with the material. And we lived at the studio while we were recording, so it was really laid back and comfortable. That let me relax and play my best."
How good is King's best? Good enough that Haynes picked up the album for his Evil Teen label and has signed on to produce its follow-up.
The proof of King's developing virtuosity and vision is in the tracks. Soul Insight opens with "Always," a riff-driven rocker about a spurned lover that brings King's big burnished tone to the fore. "Boone" displays King's acoustic side and reveals his talents as an arranger, opening with his singing slide resonator guitar and voice, and building to an explosive crescendo that echoes the influence of his own guitar heroes, including Haynes and his Allman Brothers Band foil Derek Trucks, and Jimi Hendrix. Soul Insight's first single and album's closing song, "I Won't Be Here," also echoes the Allman's in King's gorgeous, arcing vocal melody and the blend of King's acoustic and electric guitars as he sings about the bittersweet experience of moving past an old romance into a new relationship.
"Warren and Derek were big influences on me," King relates, citing the 2003 Allman Brothers' album Hittin' the Note and Trucks' Grammy-winning Already Free as particularly inspiring. "That's the level I aspire to with my own music," King adds.
The instrumental "Fraudulent Waffle" channels those aspirations in a daring five-minute journey into the elegant, expansive jam world that was the Allmans' forte and remains a hallmark of Gov't Mule. King double tracks his instrument to emulate the Allmans' signature twin guitar harmonies and then launches into a solo that embraces elements of jazz and blues before an exploratory duet with the album's organist Alex Abercrombie.
Of course, King's singing is every bit as potent as the sweet and surly voices of his guitars — a mix of his main Gibson SG, a Les Paul Deluxe and an ES-345 plugged into a pair of Fender Super Reverb amps run in stereo and teased by only one effect: a Tube Screamer overdrive pedal. King's warm, soaring tenor reflects a variety of soul and blues greats he considers fuel for his songwriting and performing that includes Otis Redding, Aretha Franklin, Janis Joplin, Ray Lamontagne and Haynes.
But King's first musical well was his father, a guitarist and singer whose Marvin King & the Blues Revival remains a staple of the Carolina music scene.
"My father is still my biggest musical hero," King says. "I'd see him coming home in the early morning hours after gigs when I was a little kid, and I thought my dad had the coolest job ever. I wanted to carry on the lineage. His father played fiddle and guitar, and his grandfather played fiddle. So when he took me to play my first gigs with him when I was about 11, it already felt completely natural."
"Natural" and "organic" are words King uses often. He puts a premium on writing songs that share his perspective on the world and in letting arrangements come to life in rehearsals and on the stage, evolving as the group plays them.
King says he's already recorded more than two-dozen varied demos for Soul Insight's follow-up. "The band's current line-up is really perfect for me," King explains. "With a trumpet and trombone we can have a really interesting instrumental color along with the guitar. Having an organ lets me get into the zone of classic jazz and blues. And with a percussionist and a drummer, we can do more elaborate rhythms and explore Latin music. So I have all I need to really take the music anywhere.
"Off stage, I'm a very introverted person," he continues. "Making music is how I speak my mind and let people see the way I view the world — as a big, rich and colorful place with so much in it and so much to offer. And with Soul Insight, I think me and my band have come out kickin', showing everybody who wants to listen what I'm all about."