Event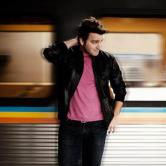 Nathan Angelo & Sam Burchfield
Venue:

Friday Night

Doors:

9PM – 01:30 am

Tickets Available at Door
Tickets are $8 and available at the door… Doors 9PM Show Starts around 10PM
In the ever-changing landscape of modern pop, Nathan Angelo shines as a refreshing alternative, embracing the classic elements of popular music and celebrating the backbeat of American tradition. As the revival of music in the 60's and 70's brought together the heritage of the Great American songbook, the flair of jazz and heartache of the Delta blues, Nathan integrates these forms into his own music with great ease and delight. Like many Motown and Stax artists, Nathan's musical craft was cultivated at a young age in the pews and platform of the church. It was there that he first witnessed the power music had to transport people beyond their present experiences.
As a seasoned performer, Nathan has captivated audiences across the country with his tight band and high-spirited live show. Fans of Nathan Angelo recently rallied to fund his latest project on Kickstarter with totals reaching 10K over the projected goal. The new album began with a creative vision rooted in Nathan's love of classic soul and r&b. His dream was to create an original record that brought listeners back to the infectious, danceable sounds of the era.
Out of the Blue (Sept 2013) channels the vibe with success, featuring fresh, amusing songs with sounds reminiscent of Marvin Gaye, Jackson 5, Stevie Wonder and Otis Redding. In order to capture the energy of the live show, Nathan and his band spent 2 days in the world-famous Quad Studios in Nashville recording analog onto 2″ tape. The project incorporates the signature "call and response" singing style common to Motown as well as the distinct orchestration: horn sections, strings, guitars, snaps, claps, tambourine and the unforgettable keys. To complete the aesthetic, Nathan's breathtaking falsetto and honest, quirky and charming songwriting reach surprising new heights, satisfying listeners with an all-around experience of nostalgia, energy and emotion. The timeless and unique artistic direction of this record coupled with its phenomenal execution and production allow Out of the Blue to emerge as Nathan's most exquisite work to date.
Sam Burchfield's sound ranges from clever lyrical ballads like 'Doctor' to upbeat funky compositions such as 'She Got Your Love'. Add in some banjo driven folk in songs like 'Here Tonight' and you're almost there. From banjo, to brass, to traditional rock 4 piece, Sam has taken the diversity of modern music and blended it into his own multiple-genre style that keeps the listener entertained, interested, and impacted. With a voice that can be soft and sultry, or full of loud southern soul, the music Sam Burchfield writes is connected by an authentic passion and energy that audiences have been hungry for. Where to Run merely scratches the surface of this young artists repertoire of songs and sounds.
Burchfield has been developing his skills as a musician and song writer for a decade. Growing up in Seneca, South Carolina, Sam played coffee shops and other small venues before eventually moving to Athens, Georgia, to further his musical career and to attend the University of Georgia.
From playing in well-known Athens band Street Rhythm & Rhyme to winning the statewide singing competition Campus Superstar 2013 and appearing on American Idol this season, Burchfield has had a diverse musical career. He continues to leave the door open to new possibilities and opportunities, recently trying his hand as a worship leader and a music teacher at a summer camp in Montreat, North Carolina.
In February of 2014, Burchfield released his debut EP earning lots of media attention such as renowned college music blog, Good Music All Day. The local singer/songwriter creates a masterful blend of blues rock, funk and folk, influenced by the likes of ZZ Ward, Ray LaMontagne, James Morrison, and even early Jack Johnson. The EP "Where to Run" is complete with varying instrumentation from funky guitar riffs to a vintage jazzy horn section. The songs are bonded together with a chillingly precise rhythm section. Each track leaves the listener feeling pleasantly surprised by an exciting mix of Burchfield's multiple styles of music.
Sam Burchfield has shared the stage with notable acts such as St. Paul & The Broken Bones, Josh Garrels, and YouTube sensation Noah Guthrie. He won the statewide singing competition Campus Superstar last year, winning $5,000 to fund the recording of his EP. He also recently auditioned for American Idol and was chosen as a contestant to go to Hollywood by Jennifer Lopez and Keith Urban. Burchfield's audition aired on January 23, 2014 and can be viewed at the link below:
http://www.dailymotion.com/video/x1afnia_sam-burchfield-21-atlanta-auditions-american-idol-2014_music
Soulful vocals and folk-influenced lyrics combine with a foundation in southern blues and funk to produce an exciting sound from this up-and-coming musician. His music spills out of a passionate soul. From the slow ballads that speak of love and longing, to quirky and comical folk tunes, Sam has not limited himself to one genre. While he has achieved much success as a young artist, the potential is limitless for this youthful dreamer and his noble guitar, Sassy.