Event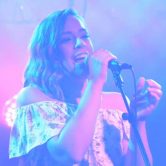 The Bud Light Seltzer Beach Series With Page Mackenzie
Venue:

Saturday

Doors:

5PM – 9PM
Tickets are $10 Available online or at the door…Doors 5PM Show is 6:30
Nashville Country artist and Charleston native PAGE MACKENZIE takes The Windjammer's Bud Light Sunset Stage. This is a SOCIALLY DISTANCED show limited to 250 capacity, get your tickets early NOW!
http://www.pagemackenziemusic.com
Page Mackenzie hails from the beautiful city of Charleston, SC but took the leap to music city in 2016. Her soul and vocal ability flow as deep as her Low-country roots. Mackenzie is taking the country music scene by storm. After a three year hiatus, Page released her single "Love Like That" which was featured on Spotify's editorial playlist "New Music Nashville" which has over 42,000 listeners gaining her almost 50,000 digital streams.
She competed on Fox's hit reality show, The X-Factor, acquiring a "yes" from all four judges. (Simon Cowell, Paulina Rubio, Demi Lovato, and Kelly Rowland) Mackenzie was nominated for Country Grind of the Year and Country-Artist/Band of the Year for the Independent Tone Awards. Page Mackenzie was also the winner of 2017 "Battle to the Beach." This gave her the opportunity to open and play along side artists such as Kenny Chesney, Lee Brice, Love and Left, Darius Rucker, and Jason Aldean at the Carolina Country Music Festival. She has opened for major artist such as Lauren Alaina, Muscadine Bloodline, LANCO, Dylan Scott, The Wild Feathers, The Blue Dogs, Jacob Davis of Black River Entertainment, Scotty McCreery and Corey Smith along with playing at wildly popular venues/events including Music Farm Charleston, Whiskey Jam, Carolina Country Music Fest, The Windjammer, Low Country Live ABC News 4, Nash FM 96.9, Sottile Theatre and many more.
In the 2019 touring season, Page played over 100+ self-booked dates traveling all over the United States. Her new single, "Tattoos & Heartbreaks," is set to release May 8th, 2020.