Event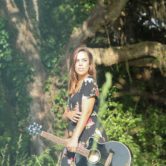 Page Mackenzie W/Jump Castle Riot
Venue:

Friday Night

Doors:

9PM

Tickets Available at Door
Tickets are $7 at the door…Doors 9PM show is 10ish
Page Mackenzie hails from the beautiful city of Charleston, SC. Her soul and vocal ability flow as deep as her Low-country roots. Her comprehensive admiration of country artists from past and present have molded her into the artist she is today and has truly influenced her original music. Her debut, self-titled EP was released in the summer of 2016 where she had the honor of recording at Hybrid Audio Solutions of Charleston, SC.
http://www.pagemackenziemusic.com
This three song EP truly put Page on the radar.Page's song,"Think of You," was featured on PBS's hit show, Moveable Feast with Pete Evans. Her heart-wrenching track, "Stay", brought a lot of attention to the young artist. While competing and winning the regional round for Nash Next 2016, "Stay," was played throughout local stations including NASH FM 96.9. This lead to many opportunities opening up for artists including LANCO, Dylan Scott, The Blue Dogs, Jacob Davis of Black River Entertainment and Corey Smith along with playing at wildly popular venues/events including Music Farm Charleston, The Windjammer, Low Country Live ABC News 4, Nash FM 96.9, Sottile Theatre and much more.
She competed on Fox's hit reality show, The X-Factor, acquiring a "yes" from all four judges. (Simon Cowell, Paulina Rubio, Demi Lovato, and Kelly Rowland) This year she was nominated for Country Grind of the Year and Country- Artist/Band of the Year for the Independent Tone Awards. Page Mackenzie was recently the winner of 2017 "Battle to the Beach." This gave her the opportunity to open and play along side artists such as Kenny Chesney, Lee Brice, Love and Left, Darius Rucker, and Jason Aldean at the Carolina Country Music Festival.
Jump Castle Riot is a blues/rock band from Charleston, SC. The group has been described as having "effortless chemistry" and an explosive sound. "These kids have serious talent," says Atlas Road Crew drummer Patrick Drohan. The Charleston music scene evidently agrees, having voted JCR the winner of two Charleston City Paper Music Awards (CPMAs).
http://www.jumpcastleriot.com
The band consists of Nina Murchison (vocals), Jay Van Raalte (guitar/vocals), John Palles (drums), and Richard Hartnett (bass). The band has been hard at work since forming in the fall of 2015. Appearances at the Pour House, Windjammer, Taste of Charleston festival, and Patriot's Point as well as a variety of bars, restaurants, and special events have put the band in front of thousands of people. Fortunately, they have been up to the task. This band has a sound that will stop traffic – or has at least proven to stop conversation in major bars in Charleston.
Jump Castle Riot hasn't done this in a vacuum, of course. They credit growing up in the supportive, unique Charleston music scene as a major influence. This influence has given the members incredible opportunities to learn and play with a variety of folks, including members of The Travelin' Kine, Dead 27's, Atlas Road Crew, Elise Testone, Thomas Champagne, and blues legend Buddy Guy, among others.
Word about the group is spreading quickly around the area, which is bringing JCR to more venues more often. Join the Riot today!