Event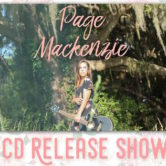 Page Mackenzie W/ Danny May
Venue:

Thursday Night

Doors:

9PM – 1AM

Tickets Available at Door
Tickets are $5 at the door..Doors 9PM show at 10PM
Page Fortuna hails from the beautiful city of Charleston, SC. Her soul and vocal ability flows as deep as her Lowcountry roots. Her comprehensive admiration of country artists from past and present have molded her into the artist she is today. Such influences include the always timeless Dolly and Reba as well as more recent artists, Miranda Lambert and Kacey Musgraves.
https://www.facebook.com/pagemackenziefortuna/
Page has left her vocal footprints all over the country including South Carolina, Tennessee, California, Michigan and many more. She recently competed in Fox's hit reality show, The X-Factor, acquiring a "yes" from all four judges, Simon Cowell, Paulina Rubio, Demi Lovato, and Kelly Rowland.
This summer she sets out to record her first ever country EP with Hybrid Audio Solutions located in Charleston, SC. She swells with enthusiasm coupled with eager anticipation and can't wait to share her stories with you in the best way she knows how, music