Event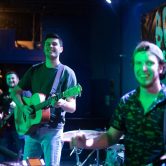 Palmetto Roots
Venue:

Saturday Night

Doors:

9PM

Tickets Available at Door
Tickets are $5 or Free with a Josh Hughett ticket…Door 9PM
21 UP
Formed in Charleston, we bring deep southern roots to our shows and our music. With a combined total of over 25 years of playing, we bring the best high energy shows to you.
Starting in 2018, Palmetto Roots was formed as a cover band and we started playing in college town bars. From there, we have expanded public/private venues, weddings, fraternity/sorority events and more.
We cover a large variety of music including your favorites like Luke Combs, Morgan Wallen, Lenard Skynyrd, Def Leppard, Journey, The Killers, Red Hot Chili Peppers, Foo Fighters, Green Day, Jason Aldean, Darius Rucker and many more.