Event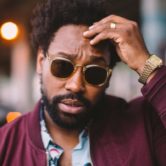 PJ Morton of Maroon 5
Venue:

Friday Night

Doors:

9PM – 1AM
Tickets Range from $20 to $50…Doors 9PM Show at 10PM This is a Music Farm Production
There's no place like home, especially for New Orleans natives…
This magical city gave birth to jazz music, and its streets breed inspiration like no other. After traveling the world as a successful solo artist and keyboardist for pop powerhouse Maroon 5, GRAMMY® Award- and Dove® Award-winning singer, songwriter, producer, and multi-instrumentalist PJ Morton gained a new perspective on his old stomping grounds that would inform his 2017 solo offering and debut for his own Morton Records, the aptly titled Gumbo.
"In 2013, Maroon 5 did Jazz & Heritage Festival, and it was the first time I ever looked at New Orleans with different eyes," he admits. "I wasn't with my family. I was at a totally different place in my life. Like I'd never been here, I saw the charm of why people love this town. At that point, I had been all over the world and so many places. I really started to appreciate it. It brought me back to the beginning. I remembered dreaming of the GRAMMYs® and being on Saturday Night Live. I'd actually accomplished those goals since I left. I wanted to tap into that feeling again. That planted the seed of, 'Maybe I could move back here.'"
By the time he moved back in 2016, Morton had built an unbelievable career. In addition to boasting collaborations with Adam Levine, Lil Wayne, and Busta Rhymes, his critically acclaimed 2013 offering, New Orleans, earned a 2014 GRAMMY® Award nomination in the category of "Best R&B Song" for "Only One" [feat. Stevie Wonder]. Pitchfork called it, "a smooth and soulful pop/R&B hybrid," and the record dramatically expanded his influence. In addition to figuring prominently on Maroon 5's multiplatinum Overexposed and V, Morton has written and produced for everybody from BJ The Chicago Kid, Jermaine Dupri, and Jazmine Sullivan to Monica and India.Arie, winning a GRAMMY® for collaborating with the latter in 2008. His music has also popped up in films such as Couples Retreat and more. Among many other accolades, he has received Dove® and Stellar® Awards, published his literary debut Why Can't I Sing About Love? in 2009, and become music director for Solange following the release of her critically acclaimed opus A Seat At The Table.
Relocating from Los Angeles, he returned home with a pronounced fire and hunger.
"When I got back, everything went into second gear, because I was in my element then," he continues. "I was away from any expectations. I had a warm welcome from the culture and the community. It really freed me. Even though it's where I was born and raised and the name of my last record was New Orleans, this is actually the first album I've made here," he laughs. "That played a huge part in the development. Musically, I could say what I wanted to say."
PJ holed up in the Parlor Recording Studio, stirring up what would become Gumbo as he personally composed on vintage keyboards, Moog bass, and more. Evoking heroes such as Stevie, Marvin Gaye, and Al Green, he enlisted a rotating musical cast of longtime friends and collaborators to join him such as Mutemath's Darren King [drums], Keyon Harrold [trumpet], Chris Payton [guitar], DJ Raymond [bass], Brian Cockerham [bass], Matt Jones [arranger], and Big Ed Clark [drums]. With a dash of R&B groove, hip-hop bounce, and a whole lot of his signature soul, the ten tracks immediately simmer.
"Gumbo is something that comes to mind when you think of this place," he says. "It's a gumbo of different subjects and styles."
The first single "Claustrophobic" [feat. Pell] threads together a confessional narrative over funk bass lines and keys before a powerful cameo from the Big Easy's own Pell, a singable trumpet solo from Harrold, and the assuring chant: "You just gotta be you."
"I'm talking about creative freedom," he says. "It's a struggle whether artists want to be the most popular or the most truthful. It's easy to get confused in this game. That's how I started to feel in Los Angeles. It was getting claustrophobic because all of these other people's opinions and thoughts, so I just wrote exactly what was on my mind."
The handclap shuffle of "Everything's Gonna Be Alright" [feat. BJ The Chicago Kid & The Hamiltones] builds into one of the album's most powerful hooks, nodding to Marvin's "What's Going On."
"As people, we've gone through a bunch," he sighs. "Look at the world. You've got the Black Lives Matter movement, the presidency, racial tension, and the way we're divided in the country right now. That's the subject matter. We're still here though. I'm saying, 'I know this is one of the craziest times we've ever been in, but everything's gonna be alright.' The Hamiltones and BJ are both current but old school, so they brought that perfect mix."
For PJ, Gumbo spans the entire spectrum—from his soulful remake of the classic Bee Gees' song "How Deep Is Your Love" to the ponderous "Religion." It represents the musical diversity at his core and a larger mission statement.
"I actually came back here to open up a sneaker shop and focus on retro Jordans," he says. "When I arrived, I started to see myself in all of these young artists around town, but there was still no outlet for them. If you want to do something outside of jazz, you have to leave. I wanted to build a home for this talent here. That's where Morton Records came into the picture. It's my idea for the 'Motown of New Orleans' where it focuses on local talent, develops it, and exports this charm we have. This is the beginning."
Ultimately, it's also a new beginning for PJ. "When people hear Gumbo, I want them to take away that being original is cool again," he leaves off. "These are real melodies, instruments, and songs. The only thing I'm chasing is who I am. That's why I came home and this album is what it is."