Event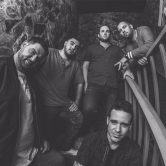 Resinated
Venue:

Thursday

Doors:

9PM

Tickets Available at Door
Tickets are $5 at the door…Doors 9PM Show is 10ish
Ages 21 Up or with Parent
Resinated is a funk and reggae infused pop group from St. Petersburg, FL. Their funky grooves keep you moving while their tasty lyrics and unforgettable melodies keep you singing their songs long after the dance party has ended. From the vibrant keys to analog synth leads and funky rhythmic guitar- they throw down a heavy dance and disco style pocket rhythm-section with smooth vocal harmonies that will leave you wanting more.
https://www.resinatedmusic.com
Growing up on the beaches of Madeira, FL, the Resinated members have known each other for over 10 years. Kenny Mullins (Lead Vocals/Guitar) is a singer-songwriter from Madeira Beach, Florida and pursued Resinated as an acoustic act until reuniting with high school music friend and skim boarder John Gray (Bass/Vocals) and singer-songwriter and high school friend, Jeff Applefield (Key/Vocals), The band has since added upcoming Tampa, Fl. based musician Danny Bub (Sax/keys) and Orlando, Fl. based drummer Bruno Ufret (drums/percussion/samples) to round out the five piece band.
Resinated's first album "Be Yourself" (unreleased) was recorded in June 2011 at Audio Impact of Clearwater, Fl with Andy Wombach as the engineer Andy Wombach and Kenny Mullins as the producer. Resinated released their "Hand's Off" EP in December 2012. The EP was recorded at Sound Lounge Studios in Orlando, Fl and was produced by Kenny Mullins, Greg Shields and engineer/producer Mike Stebe. Mastered by Mike Stebe.
Resinated released "Smoke Signals" LP on Right Coast Records owned by Howi Spangler of Ballyhoo! in February 2015. Recorded at Sound Lounge Studios in Orlando, Fl with producer Kenny Mullins, Greg Shields and engineer/producer Mike Stebe. Mike also mastered the record.
In 2018 Resinated released a three part collection of EP's respectively titled "The Night Before", "The After Party" and "The Morning After". The tracks were recorded in L.A. at Zen Studios with executive producer Justin Gray also working the engineer position. All three EP's were produced/mixed by Justin Gray(Louis Fonzi, Mariah Carey, John Legend), mastered by Chris Gehringer(Rihanna, Lady Gaga, Robin Thicke) with select tracks mixed by Brian Malouf(Michael Jackson, Queen, Madonna) putting together an all-star team. "The Morning After" was released through Chicago based record label "Space Duck Records" adding to an impressive release history for the band
Resinated has toured the East and West coasts over the last few years. Their high energy performances have engrossed fans from coast to coast and keep them coming back for more. Their shows are more than just a dance part through their uplifting lyrics will leave you feeling refreshed and upbeat!
Resinated has shared the stage with many artists, including: Collie Buddz, Slightly Stoopid, Tribals Seeds, Steel Pulse, The Expendables, Ballyhoo!, Stick Figure, Iration, The Movement, Passafire, Maxi Priests, Pepper, Stephen Marley, Eve 6, Everclear, Erykah Badu, Taleb Kweli, and OAR their sound is diverse and accessible at the same time. They have also played festivals such as Blackwater Music Fest, Chillin Music Fest, Gasparilla Music Festival, Reggae Rise Up, and many more local and national concerts/festivals in addition to those listed here.