Event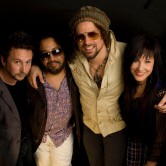 Rusted Root "An Evening With"
Tickets Available at Door
Tickets are $25 available at the door…(Doors 9PM) Showtime is 10PM
with NO OPENER
Multi-instrumentalist group Rusted Root integrate the Grateful Dead's jam-heavy rock with percussion influences based on the music of Africa, the Middle East, and Latin America.
http://www.rustedroot.com
The six-piece formed in Pittsburgh in 1990 with Michael Glabicki (vocals, guitar), Liz Berlin (vocals, percussion), Patrick Norman (bass, vocals), and Jim Donovan (drums, percussion) as the initial lineup, though John Buynak (percussion, winds) and Jim DiSpirito (percussion) joined later that year. In 1992, Rusted Root released its debut independent album Cruel Sun. However, it was the band's 1994 sophomore album, When I Woke, that garnered the band national attention. With support from college radio and a good buzz from the band's entrancing live show, When I Woke became quite successful in alternative circles during 1995-1996, especially with singles such as "Send Me on My Way" and "Ecstasy." In mid-1996, Rusted Root released the Evil Ways EP, a compilation of live tracks with the band's contributions to the movies Twister and Home for the Holidays. The group's second album, Remember, followed in October. Produced by Jerry Harrison, it reached the Top 40 in its first week of release. A self-titled LP followed in 1998. After some time off, Rusted Root returned with Welcome to My Party in 2002 before leaving the world of major labels behind and releasing the 2004 album Rusted Root Live on their own indie imprint, Touchy Pegg. Breaking the seven-year wait for a new studio album, Stereo Rodeo landed in 2009. Following near constant touring for a couple of years, the band went into their studio and emerged with Movement in 2012.