Event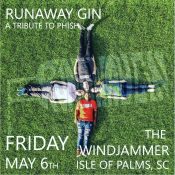 Runaway Gin: A Tribute to Phish on the Liquid Aloha Beach Stage
Tickets $15 DOS $20
Doors 6:00 Show at 7:00ish…
Ages 21UP or with Parent
http://www.atributetophish.com
With over 375 shows performed since it's inception in 2014, Runaway Gin is the World's Most Active Phish Tribute Project. They have also been voted the Best Phish Tribute in the World two years in a row. On July 4th, 2015, after the second show of the Grateful Dead GD50 run, Runaway Gin sold out the Hard Rock Cafe in Chicago and catapulting them from a Southeastern regional act onto the National scene.
The members of Runaway Gin have united with the goal of creating musical moments inspired by Phish. The band's song list is constantly growing and their improvisational and communication skills are constantly developing independently and together. Like Phish, Runaway Gin will never play the same show or jam the same way twice making every show a unique experience and every moment pure artistic creation.