Event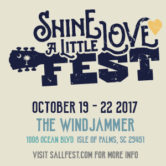 SALLFEST
Venue:

Friday Night

Doors:

7PM – 12AM
Tickets are $35…Doors 7PM Show at 7:15PM
7:15 pm – 7:50 pm Paul Carella
8:00 pm – 9:00 pm Levi Lowrey and Wyatt Durrette
9:15 pm – 10:30 pm John Driskell Hopkins (of Zac Brown Band)
10:45pm – 12:00 am Shawn Mullins
ABOUT SALLFEST
Get ready for the third Annual Shine a Little Love Fest October 19th-22nd! Join in on the music, fun and festivities! Bring your friends and meet many new ones as we Shine the Love in the Isle of Palms, SC with some amazing music with a lineup that includes hit songwriters Shawn Mullins, Levi Lowrey and John Driskell Hopkins as well as Daniel de Los Reyes (of Zac Brown Band). Also performing during the weekend are Finnegan Bell, Magno, Zach Nytomt, Kristopher James, Alex Saunders, JessLee, Wyatt Durrette, Tom O'Connor, Jesse Cole, The Van Lears, Patrick Blanchard, Farewell Angelina, The Lost Wages, Francisco Vidal, Lilly Winwood, Granville Automatic, Rosa Pullman, Tyler Boone, and Lance & Lea. Serving as host and co-creator of the festival, Brian Collins will also treat the ticket holders to a performance Saturday night. It will be a weekend to remember!
who are we benefiting this year?
The Murray Center for Research on Parkinson's Disease and Related Disorders was formally dedicated on June 27, 2003, with the generous support of this noted philanthropist. Mr. William Edwards Murray and his family have been long-standing friends to the Medical University of South Carolina, in both research and education. They and other supporters of the Movement Disorders Program allow us to progress in the fight against these disabling neurological disorders. As the research branch of the Movement Disorders Program, the mission of the Murray Center is to find the causes of Parkinson's disease and related disorders, create new treatments for this disease, and ultimately find a way to detect the illness before symptoms develop and prevent its progression. The Murray Center enjoys collaborative relationships with many other programs at MUSC, as well as outside of the institution, locally, nationally and internationally.