Event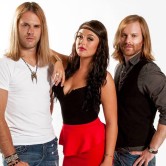 Scarletta W/ The Cheaters
Venue:

Saturday Night

Doors:

9PM

Tickets Available at Door
Tickets are $5 at the door. (Doors 9PM)
Scarletta is embarking on a new journey featuring new lead singer Emilee Allan.
The band is coming off an amazing 2013 with over 150 shows and expecting even more in 2014. The band has been a Nashville mainstay for the last 2 years working with Grammy Award-winning producer Blake Chancey. They are now in the studio with a hot new duo production team of Steffon Hamulak and Eric Torres of Sea The Desert Entertainment. The band is a big believer that everything happens for a reason and is convinced that Emilee has come to them at the perfect time. The new recordings are a blend of self-written material as well as songs from some of the best writers in Nashville. Scarletta performed the NACA circuit to over 100 universities from coast to coast and continues to beef up their touring presence at clubs and theaters throughout the country.
The band is composed of the trio fiddle player Nathan Stoops, guitarist Benji Harris, and lead singer Emilee Allan. Nathan is a classically trained violist that brings a flare to country music that makes him one of the best fiddle players in all of Nashville. Benji is an accomplished bandleader who blends his lead vocals as effortlessly as his harmonies. Emilee is the new spark plug that is the lead singer and dynamic centerpiece of Scarletta.
Scarletta was included in Billboard Magazine's Top 10 Country Artists to watch in 2013. Their first single to country radio, "Right Here Right Now," reached number 28 on the Music Row Radio Chart. Scarletta wrote the single with rock personality Paul Taylor (Winger, Alice Cooper) who co-produced the track with Blake Chancey.
Scarletta looks forward to seeing you on the road soon.