Event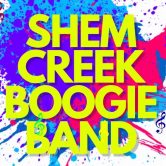 The Shem Creek Boogie Band on the Bud Light Seltzer Beach Stage
Tickets $10.00
Doors 6:00 Show at 7:00ish…
Ages 21UP
If for any reason this show needs to be moved in doors…Only the first 400 tickets will be valid for entry…Out door only tickets will be marked before purchase.
http://shemcreekboogieband.com
The Shem Creek Boogie Band began playing weekly Thursday night gigs in 1991 at the legendary Trawler Restaurant, situated along Shem Creek in Mt. Pleasant. Thus the name.
The band is comprised of John Vislocky on lead vocals, percussion and trumpet, Herb Stokes on guitar and backing vocals, John Sullivan on bass and vocals, Bruce Szego on drums and vocals and Allan Friedberg on keyboard and backing vocals.
Sullivan and Stokes are longtime veterans of the Lowcountry music scene. They've recorded, performed, and composed music together on various bands over the years, including Second Wind and Barnacle Bob. Their broad repertoire of classic rock, blues, soul, country, and pop standards reflects their vast experience as pro musicians. Sullivan acts as the Shem Creek band's booking manager as well.
Frontman John Vislocky knows how to light up the crowd. Based in John's Island, he is a fairly recent Charleston transplant, with most of his playing time centered around Northern New Jersey playing at weddings and corporate functions. John's amazing tenor voice was also featured as lead vocalist in Jersey Transit Authority, a great Chicago tribute band.