Event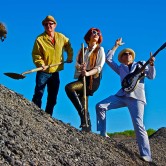 Southern Culture on the Skids W/Circus Mutts
Venue:

Friday Night

Doors:

9PM – 1AM
Tickets are $15 available at the door… (Doors 9PM Show at 10PM)
Southern Culture On The Skids has been spreading the rock and roll gospel since since they formed in Chapel Hill, NC in1983. Guitarist/singer Rick Miller, drummer Dave Hartman and bassist/singer/heartbreaker Mary Huff, play a greasy mix of surf, rockabilly, R&B and country-fried garage with a side of psych, all the while driving fans into ecstatic, sweat-drenched paroxysms of joy. It's a musical gumbo Miller calls, "Americana from the wrong side of the tracks." The band has been prolific and ubiquitous for over thirty years, touring everywhere from the North Carolina Prison System to Mt. Fuji, Japan and delivering what Rolling Stone calls "a hell raising rock and roll party."
In 2014 the band was honored by the Southern Folk Life Collection at the University of North Carolina Chapel Hill with an exhibition featuring their music and cultural contributions. The flame-adorned La-Z-Boy from the cover of their Plastic Seat Sweat LP now resides at UNC-CH!
http://www.scots.com/
https://www.facebook.com/southerncultureontheskids/
From their 1985 debut Voodoo Beach Party, to the international smash, 1998's Dirt Track Date (featuring the hit single "Camel Walk"), and up to 2007's gender bending album of cover tunes — Countrypolitan Favorites, Southern Culture on the Skids have continued to throw what Rolling Stone dubbed "a hell raising rock and roll party." Their 2005 live outing, Doublewide and Live!, captured all of this on tape, dirty, rough, wild and above all fun!! 2010 saw the band's first self-release, The Kudzu Ranch, plus the reissue of their classic 1991 album, Too Much Pork For Just One Fork. In 2011 the band released the out of print 1996 Santo Swings EP digitally for the first time ever on Cinco de Mayo.
Now the band has just released their latest slab of wax, Zombified as an LP (on blood red vinyl), a CD, and digital download. Southern Culture On The Skids' tribute to the horror and exploitation movies that populated Southern theaters and drive-ins during the 60s and 70s, the Zombified Extended Reissue has been released on Kudzu Records. Originally released in Australia as an eight song EP in 1998, Zombified is now a full-length album with the addition of five new tunes.
The new and improved Zombified has been re-mastered and re-packaged with cover art by Sean Starwars and design by Yee Haw industries. Rick Miller, guitarist and singer for the band said, "you know, the Zombified EP never had a proper U.S. release and the band is excited about it happening now as a full album." The album is available in all formats, CD, digital download and LP.