Event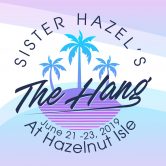 Sister Hazel On the Sunset Stage
Venue:

Saturday

Doors:

06:00 pm
Doors 6PM
OK, We have got to make a call and have run out of time. The weather forecast calls for storms during showtime. I wish I knew the future for sure but based on all the information we have we are moving the Saturday Sister Hazel Show inside. Tickets purchased after 6/16/19 and marked as Outdoor show only will not be valid tonight. We are planning to put the Sunday Noon Show Outdoors weather permitting. You will be able to use these tickets tomorrow if you would like. If they are not used tomorrow, you will receive a refund. Thank You very Much, We are extremely sorry. We waited until the last minute to make this call after speaking with local TV meteorologist. windjammer@comcast.netfor questions
What we had to work with when we had to made the call to bring the show inside. It would have take 4 hours to put the band outside no way to move back inside once we were outside
***Tickets are Sold Out****
The first 500 tickets have been sold. Tickets sold after 6/16/19 will only be good for an Out door show. If the show has to be moved indoors for any reason these tickets will not be valid and will be promptly refunded back to the credit card from which they were purchased.
Our Sunset Concert Series is Sponsored by: Bon & Viv Spiked Seltzer
Originating from Gainesville, FL, Sister Hazel is comprised of five gifted, seasoned musicians whose well-spring of natural talent has been called "one of the Top 100 Most Influential Independent Performers of the last 15 years" by Performing Songwriter Magazine.Their song "All for You" topped the adult alternative charts during the summer of 1997 and the success propelled their album to platinum status. In their first showing on the country music charts they made a strong debut with "Lighter In The Dark" at #4 on Billboard's Top Country Albums chart, #6 on Billboard's Independent Albums chart, #30 on Billboard's Top Current Albums chart and #79 on the Billboard 200 album chart. The band landed on Billboard's Top Country Albums Chart again in 2016 with "Unplugged From Daryl's House Club" at #75.Living up to their fan-centered reputation, the band hosts annual events like "Hazelnut Hang," that focuses on fan involvement and was a pioneer in themed cruise experiences by co-founding "The Rock Boat," a cruise featuring nonstop opportunities for fan/artist interaction. Sister Hazel has been equally attentive to connecting with their audience through social media.In addition to the events and touring, the band also gives back with "Lyrics For Life." Founded by singer Ken Block and the Band, the charity unites musicians and celebrities for concerts and auctions to benefit cancer research and patient-care charities.
190218_1150_Sister_Hazel_Hang