Event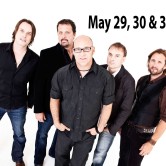 Sister Hazel's "Hazel Nut Hang-Nut Case Package" SOLD OUT
SOLD OUT…GO FOR THE 10th Hang Reunion Package
https://www.the-windjammer.com/wp/event/sh-hang10/
"NO REFUNDS ON NUT CASE TICKETS"
Yes your kids can attend the Hang with you. However, we don't recommended young kids in attendance for the Night Shows. Everyone must have a ticket no matter what age. That being said if they are in a stroller, NO THEY DON'T NEED A TICKET!!!