Event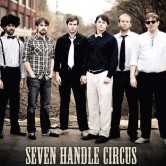 Seven Handle Circus & Folk Soul Revival
Tickets Available at Door
Tickets $10 Advance available at the Windjammer $12 at the door (Doors 9PM)
Folk Soul Revival is a harmony drenched, boot stomping, rowdy, rootsy Americana band from the Appalachian mountain region of Virginia/Tennessee.
http://www.folksoulrevival.com/
http://www.sevenhandlecircus.com
FSR has just released their third album 'Prompting The Dapperness.'The completely fan funded release (following a hugely successful Kickstarter campaign) returns to the formula that has continued to make the band so endearing- strong songwriting, sing along melodies, impassioned vocals and most of all honest music that resonates deep within the listener. There's a reason the band has such a loyal fan base ('The Congregation') and garners accolades wherever they travel.
In 2010, the band's second album 'Words Off the Tongue' was ranked among the Top 15 Albums of the Year by No Depression magazine. 'Prompting the Dapperness' reached #12 on the iTunes country charts and #99 on the overall charts on the day of its release, and has already charted on BillboardMagazine's Heatseekers Charts at #10 (South Atlantic division.)
In 2011, the Virginia Tourism Board awarded FSR the Virginia Band of the Year and in 2012 readers of Virginia Living Magazine named the band among the Top Three bands in the Commonwealth of Virginia.
Seven Handle Circus
Formed in 2010, Seven Handle Circus is a six-piece Georgia band that has been critically acclaimed as "bad-ass bluegrass" with the "drive and energy of a rock band." During their legendary live performances they push the limits of human endurance to send each crowd into a dancing and partying frenzy. Elements of rock, punk and alternative infuse their shows and they have even rocked crowds with rappers such as T-Pain & Yung Joc.