Event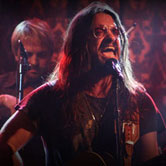 Shooter Jennings W/ Uncle Lucius
Tickets are $15 Advance – $18 DOS (Doors: 9:00)
I ain't an Outlaw, I'm a motherfucking Gunslinger. If you've got a problem, I'm gonna solve it with my trigger finger.
During the recording sessions for Shooter s previous release, Family Man, as in life, things began to shift and change and The Other Life began to take form. Over the duration of 2012, Shooter and The Triple Crown finished work on The Other Life, and Shooter and long time video-collaborator Blake Judd began planning an expansive film counterpart to the album. Shot across Tennessee, Kentucky, Nevada and California, The Other Life film paints a story of isolation, temptation and rebirth through visual storytelling. As an album, The Other Life sees Shooter using all the colors of the pallets of previous recordings, and bringing them together to make his most diverse and interesting album to date. He enlists the help of friends and icons alike, Austin Texas madman Scott H. Biram shares vocal duties on the Steve Young penned The White Trash Song, Patty Griffin blesses Wild and Lonesome and Black Oak Arkansas Jim Dandy preaches alongside Shooter in the Black Oak Arkansas lost gem 15 Million Light-Years Away. But it is with the closing The Gunslinger that we see a portrait of a man hell bent on making art his way no matter who may try and get in the way.
Shooter Jennings' Electric Rodeo airs every Saturday night at 6PM EST and re-airs Sundays at 10PM EST and Thursdays at 12AM EST only on Sirius XM radio, only in Outlaw Country.
http://www.shooterjennings.com/
http://uncleluciusmusic.com/