Event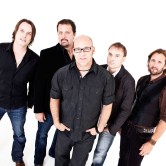 Sister Hazel W/Brian Collins
Venue:

Saturday Night

Doors:

09:00 pm
SOLD OUT!!!      (Doors 9:00) (Show 9:30)
Sister Hazel is living the dream.
In the 15+ years that they have been recording and performing as a band, they have accomplished something that for most artists is only a dream: they have built a career with a solid foundation, seemingly impenetrable by the shifting sands of the record industry and the economy.
http://www.sisterhazel.com
http://www.briancollinsband.com/
For much of the last decade, Sister Hazel has built an empire of 'Hazelnuts' through savvy marketing, hard work and plain-old, undeniable talent.
From a musical perspective, the band has always had the same approach to the creative process. The engine that drives them is based on the fundamental principles that attracted the attention of a major label, garnered hit singles on the radio and endeared them to a legion of avid fans: well-crafted, hook-infused songs complimented by solid instrumentation and lush harmony vocals.
Amazingly, their secret weapon is not a secret. It's no more of a secret than their reputation for being professional, funny and–not so amazingly–really damned good.
In fact, it's not a secret at all that they have built their career success and national name recognition through their chart-topping hits, countless national media appearances, relentless touring and the release of eight full-length albums. Additionally, true to its innovative spirit, Sister Hazel is responsible for the creation of two annual events that serve as their own personal 'fan fest' opportunities, both of which offer them an unprecedented chance to commune with their dedicated followers.
Originating from Gainesville, FL, Sister Hazel is comprised of five gifted, seasoned musicians whose well-spring of natural talent has been called "one of the Top 100 Most Influential Independent Performers of the last 15 years" by Performing Songwriter Magazine.
Their unbreakable bond with fans is demonstrated annually at their innovative 'Rock Boat' excursion, the world's largest floating music festival. Pioneers in the 'full-on fan experience,' Sister Hazel has been hosting their own cruise ship fan party for more than a decade, introducing their followers to developing talent at the same time they are spending quality time and having fun with their captive audience.
Sister Hazel's upcoming "Rock Boat XIV: The World's Greatest Floating Music Festival" will set sail February 22 – 26, 2014. The second 'fan-centric' event is better known as The Hazelnut Hang, which takes place annually at The Windjammer on South Carolina's Isle of Palms and will take place in June 2014.Aside from these up-close-and-personal fan encounters, Sister Hazel has been equally attentive to connecting with their audience through social media. Their Twitter followers are nearing the 1 million mark and last year, they did several interactive web-based events.
Commercial pursuits aside, at the heart of this band is their desire to do good work. The band itself is named after a now-famous nun from the Gainesville area who has dedicated her life to making a difference in the lives of her fellow humans. Sister Hazel the band is true to their namesake, having taken on two major charitable projects with Feed The Children and Lyrics For Life. Lyrics For Life is a charity founded by singer Ken Block as a memorial for his younger brother, Jeffrey. It unites musicians and celebrities for concerts and auctions to benefit cancer research and patient-care charities.
The dream for all musicians is to find a way to use their gifts to support themselves and their families at the same time they are enriching the lives of others. For Sister Hazel, it's an honor to be living that dream every day.