Event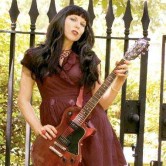 Skye Paige
Venue:

Thursday Night

Doors:

9:00 pm

Tickets Available at Door
Tickets: $5 at the Door.  Doors 9PM
Georgia-born and Atlanta-bred, Skye Paige has the special ability to understand both the dusty back roads of country music and the neon glow of big-city rock. It's a perspective that has lent itself to both her music and her burlesque shows. Skye Paige grew up fast, "Rawkin" the scene in "Hawtlanta" in the early 90's. Now living in Charleston, SC, Paige injects her blues and country roots with a sultry shot of rock-n-roll. It's not all about image with Paige, however, as the singer/songwriter and lead slide guitarist took home first place at the "House of Blues Battle of the Blues 2009", and also won the Crossroads Guitar Competion at Heavy Rebel Weekender 2012. Paige was nominated as "Best Rock Female" 2010 by the Carolina Music Awards and, her single "Just Wanna Ride" was voted "Best of Charleston City Paper" 2011.
Skye Paige has been gaining popularity thoughout the South East by playing random Honky Tonks and Dive Bars to big festivals, such as, Heavy Rebel Weekender, Cash Bash, Elvis Fest, Bike Week, and Rims on The River. She is in popular demand among the biker crowd, car clubs to Blues enthusist alike. Skye Paige is such a charismatic performer, that she was featured as a solo act on the "Coney Island Rock-n-Roll Road Show" tour. She has shared the stage with heavy hitters such as, RocknRoll Hall of Fame, Rockabilly Ledgend, Danny B. Harvey, Dash Rip Rock, Mudcat, and the Last Waltz. She has opened for bands such as Blackberry Smoke, Supersuckers, Rebel Son, and Southern Culture on the Skids.
Skye is also well known for singing Jazzy Burlesque routines with Bizarro Burlesque, Voted "Best Stage Show" by the Charleston Paper 2009. She has placed 1st, 2nd, and 3rd in Pin-up shows including "Undead Girl 2010", "Miss Hellbounders CC Memorial Day 2010", and "Miss Rockabunny Rumble 2012". However, make no mistake, Skye Paige just isn't another pretty face fronting a male driven band. She is ringmaster, lead guitarist, and principle songwriter of her music. Her style is rawnchy, rawkin', rollin', country blues, and Skye Paige tears up a slide guitar!