Event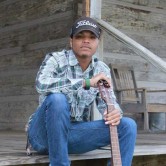 Skyelor Anderson
Venue:

Friday Night

Doors:

9PM

Tickets Available at Door
SKYELOR ANDERSON – LEAD SINGER
Skyelor Anderson is a singer-songwriter who is making a name for himself in the country music circuit through his fierce dedication to God, his family, his fans, and a "I've come too far to stop now" attitude.
http://www.skyeloranderson.net
Born on November 22 , 1994 in Memphis, TN, he grew up listening to The Temptations, Smokey Robinson and Lionel Richie. Skyelor began singing in church as a young child and knew by the age of 14 that music would be a huge part of his life. However, it wasn't until 2011, when he won 1st place in his high school talent show, "Southaven Idol", that he realized that music would be his entire life. He had never felt that feeling before….the rush you feel when the crowd goes wild; cheering, clapping, screaming your name. All the affirmation needed to know they love you. His first real taste at performing in front of a large crowd was on the 1st season of the XFactor (USA edition) where during his initial audition, his music stopped playing almost immediately. Skyelor never missed a beat. He placed in the top 8 of the mens division. Not too shabby for a brand new artist.
Skyelor has performed for wedding receptions, in nightclubs, as well as, festivals. He opened for Jamey Johnson in 2014 at Springfest which happened to be one of his many goals at the time. Opening for Luke Bryan is another goal.
While he does have a 5 piece band, he also plays acoustic shows. He plays originals, covers, modern country and country standards. He even throws in a little rock 'n roll every now and then. He is often compared to Darius Rucker and Eric Church, but every now and then someone compares him to Luke Bryan and Jason Aldean.
Skyelor's fans might be surprised to know is that he's a momma's boy, loves to motivate others and has a great sense of humor. You can follow him on Facebook at Skyelor Anderson Music Page, Twitter at Skyelor Anderson and Instagram at Skyelor_Anderson_Music.