Event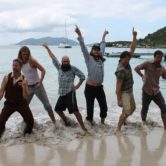 Sol Driven Train's "Sol Slam 2017" (Weekend Pass)
Venue:

Friday & Saturday

Doors:

9PM
There are a limited number of weekend passes available at $30
more information: http://www.soldriventrain.com/solslam/
FULL LINEUP
Friday – July 21
9:30pm – Graham Whorley
11:00pm – Sol Driven Train
Saturday – July 22
Outside
3:00-3:30pm – Beach Yoga with Shelby Means
4:00-4:30pm – Sol Driven Train Kids Show
5:00-6:00pm – Local Honey
6:15-7:15pm – Hans Wenzel & the Eighty Sixers
7:30-8:30pm – Jordan Igoe-Danielle Howle Duo
8:45-9:45pm – The Howling Moon Pimps
Inside
9:45pm – Dangermuffin
11:30pm – Sol Driven Train
SOL DRIVEN TRAIN
SDT
"If you need to visualize the soul, think of it as a kind of train. Yes, a long, lonesome freight train rumbling from generation to generation on an eternally rainy morning: its boxcars are loaded with sighs and laughter, its hobos are angels, its engineer is the queen of spades – and the queen is wild. Whoo-whoo! Hear that epiphanic whistle blow. The train's destination is the godhead, but it stops at the Big Bang, at the orgasm, and at the hole in the fence that the red fox sneaks through down behind the barn. It's simultaneously a local and an express, but it doesn't transport weaponry, and it certainly ain't no milk run."
-Tom Robbins, Villa Incognito
Sol Driven Train's music weaves through genres like images in a Tom Robbins paragraph. The band's playful sonic schizophrenia absorbs songwriting influences like John Prine and Paul Simon, Afro-Caribbean rhythmic explorations, and funky New Orleans-style brass into earnest songs of life, love, loss, and long johns. The versatile 6-piece band, based in Charleston, SC, features rotating lead vocalists, and multi-instrumental talent spread across horns, strings, and percussion. Combining rich varieties of American pop and folk music into their own brass-kickin' roots rock sound, Sol Driven Train has carved out a unique musical identity within the Jam and Americana music scene.
Sol Driven Train's sound has helped shape their hometown's musical identity for more than a decade. It's soulful and rich like Charleston's food, approachable like its people, rooted in history like its architecture, and as diverse as you'd expect from a city that, for instance, has a Prius-driving Democrat for a mayor in one of the country's reddest states. During the spring of 2000, a close circle of friends began gathering in college apartments downtown Charleston to create sound and share in the fun and cathartic joy of music. Through the course of 14 years and over 1,000 live shows, this same spirit still guides Sol Driven Train through the rocky road of the music industry. The venues have grown from bedrooms to festival stages, the amps have gotten louder, the lineup has evolved, and the crowds have multiplied, but the sense of brotherhood, mutual support, and creative independence within the band has strengthened. Along the way, the band has performed alongside their musical heroes, sharing stages with greats such as Bruce Hornsby, Levon Helm, Michael Franti, and Blues Traveler.
Through hard work and a commitment to live performance, the band's reputation and collective musical ability has grown with every season. Named "2011 Rock Band of the Year" "2012 Jam Band of the Year" and "2013 World/Groove/Reggae Band of the Year" by the Charleston City Paper, and "On the Verge" by Relix Magazine in January 2012, Sol Driven Train is an independent band breaking into the national spotlight. Ten independent releases including two critically-acclaimed albums for children, a live concert DVD, a live album, five full-length studio albums, and last summer's popular "Watermelon" EP document the band's winding musical development. The band has been working hard in the studio in between their 2014 tour schedule. "Dance" is an upbeat full length album scheduled for release in early 2015.
Website: http://www.soldriventrain.com/
Facebook: https://www.facebook.com/soldriventrainmusic/
Video: https://www.facebook.com/soldriventrainmusic/videos/1280351802045343/
DANGERMUFFIN
Charleston, SC's Dangermuffin releases its newest studio album to the Coastal Empire in this special show at the Post. Themes of sea, sun, and spiritual connection weave through the eight-track release combining a cohesive blend of Alt-Americana, Island grooves, Folk and Jam.
Dangermuffin is touring throughout the spring and summer in support of Heritage, the band's sixth album. On Heritage, the lyrics contemplate the universal human connection to our ancestors, ancient traditions and symbols while yearning for humanity to get back to its roots. It is an audible showcase weaving introspective lyrics with catchy, nimble guitar riffs.
Six of the eight songs were recorded acoustically adding to the album's organic feel; and although Dangermuffin has performed as a trio for many years, the recent addition of their newest member Markus Helander of Finland on drums makes Heritage the band's most progressive album to date. Fittingly, the album's soaring vocals were recorded in Charleston's historic Unitarian Church, a National Historic Landmark built in 1772.
ONLINE
Website: http://dangermuffinmusic.com/
Facebook: https://www.facebook.com/dangermuffin/
Twitter: https://twitter.com/dangermuffin
Instagram: https://www.instagram.com/dangermuffinmusic/
Spotify: https://open.spotify.com/album/3K7P4tSr9bHz7xQ9VpqJyR
GRAHAM WHORLEY
Graham Whorley is a musician known for his soulful mastery of music and looping technology. Like many of America's finest artists, Graham was born in a small town in Virginia. He soaked up the local gospel, country, and folk music he heard there and mixed it with the finest rock influences to create his own musical voice.
His following has grown organically from local to regional and then national. National Public Radio recognized his arc and featured Graham in an episode of "Your Day". The interview profiles his songwriting and featured songs from his CD "Permission To Think". Now, an international audience is being exposed to the virtuosity of Graham Whorley via his TEDTalk in which he performed by himself for technology and business luminaries from around the globe.
In today's world of disposable, vapid lyrics and forgettable music, Graham's songwriting stands out as. His experience of life and loss is unique and engaging. He is also a master of interpreting the great songs of other writers bringing new meaning and light to the familiar.
Graham has released six insightful and thought-provoking albums, three of which are available on iTunes and CDBaby. Graham performed as a featured artist on stage for Warren Haynes Annual Christmas Jam in Asheville, NC. His bands have shared the stage over the last several years with Tim Reynolds, Michael Glabicki of Rusted Root, New Riders of The Purple Sage, Lee Oskar of WAR, Members of The Dirty Dozen Brass Band, Colonel Bruce Hampton, Brock Butler, Delbert McClinton, Keller Williams, and Dumpstaphunk to name a few.
ONLINE
grahamwhorley.com
facebook.com/grahamwhorleymusic
THE HOWLING MOON PIMPS
After finding his voice, the young (no one is certain of his age) Mister Hoffman completely immersed himself in the funk and rock of the 70s and 80s. The Union Springs, Alabama native, now settled in Charleston, SC, hopes to introduce "more funk and real ass music" to the pop scene. "I ain't really on the level of my idols from the 70s," says Mister, "but I'm funky."
In 2016, spawned from his deep passion and appreciation for the movie "Purple Rain" and various blaxploitation films, Mister Hoffman formed his current band, The Howling Moon Pimps. Major influences for Hoffman and company include such bands as Morris Day and The Time, Ready For The World, and Rick James.
https://www.facebook.com/moonpimp/
https://www.youtube.com/watch?v=OTZwyQcdJPg
JORDAN IGOE & DANIELLE HOWLE DUO
JORDAN IGOE
Born and raised in Charleston, SC, Jordan Igoe is a singer-songwriter, whose songs are as Southern and soulful as she is. The multi-instrumentalist has been playing professionally for over ten years as a solo performer, and with a rotating lineup of stellar backup musicians around Charleston and regionally in the Southeast. Having grown up in a musical family, Igoe taught herself how to play the piano at age 10 and picked up the guitar a few years later, and writes catchy, heartfelt songs with both instruments. It is her raw, soulful voice, however, that immediately grabs the listener and holds on. Her songs reflect classic voices like Patsy Cline and Loretta Lynn, while her songwriting holds heart-stabbing truths and delivery that is eerily similar to the likes of Fiona Apple and Brandi Carlile. On February 14th, 2014, Igoe released her debut album entitled, "How to Love." Since then she has had positive critical response both locally and regionally. Igoe has opened for 'The Lone Bellow' at the Charleston Music Hall, shared the stage with the likes of Cary Ann Hearst and Michael Trent of 'Shovels and Rope' at the Charleston Pour House and The Charleston Music Hall, and on August 8th 2014, Jordan Igoe was the sole supporting act for the band 'Drivin' n Cryin' in Savannah, GA, and has joined them on stage at several of their shows, including at their SXSW showcase at Oxford Pub in Austin, Texas with Cheetah Chrome. Igoe and her band also had several shows at SXSW 2015, including the annual Yard Dog party with acts including Chuck Prophet, Jon Langford, and Drivin n Cryin. Igoe is currently in the studio working on her second and third records in both Charleston, SC, and Nashville, TN.
JORDAN IGOE ONLINE
Website – http://www.igoforigoe.com/
Hey Stupid – https://www.youtube.com/watch?v=87y7RDOaQkk&feature=youtu.be
DANIELLE HOWLE
rue connection can only come about through pure, honest expression. It comes from knowing how to find a truth within and having the courage to unabashedly share it. As a singer-songwriter, Danielle Howle is a natural storyteller, and she makes the biggest impact by sharing simple truths. Her music comes from a place of self-awareness and is a perpetual journey of self-discovery. She balances powerful style with conversational lyrics, sharing her honest experience of life.
Known for captivating audiences with her stunning vocal ability, contagious energy, and incredible songwriting skills, Danielle's music ranges from country swamp blues to jazz to Americana. The South-Carolinian song bell has been compared to Flannery O'Connor, Patsy Cline, and Nina Simone, with The New York Times calling her "an extraordinary mind, a southern storyteller with a gorgeous sense of melody that should be pouring out of stereos everywhere."
An effortless but deeply compelling performer, Danielle's command of music is astounding; her intelligent writing deftly scales anything from ballads to rap to heavy rock. She combines introspective folk singer, sultry country twang, and spontaneous, bitter wit to surprise and enchant in equal measure. Her sound contains definite influences from folk, country, and southern rock, but as a self-taught musician Danielle defies traditional structures, intuitively creating music that shines with her own idiosyncratic style.
Danielle has demonstrated prowess at every turn of her career, from her early band days to the eclectic acoustic and electronic detours she's taken since; with a career spanning twenty years, she's covered a lot of ground. Beyond her life as a singer-songwriter, she's turned her hand to successful production, collaborations with filmmakers, and a variety of commercial work. Danielle has an incredibly diverse range, the only constant perhaps being the beloved guitar she shares her stages with.
Danielle has opened for an array of acclaimed musicians such as Bob Dylan, Janis Ian, The Avett Brothers, and Fugazi. She's headlined countless shows and festivals twice played at the New York Music City Hall and has sold out rooms across the country, followed always by her ardent fan base. Well acquainted with being on the road, Danielle has toured extensively. She's played at Sarah McLachlan's Lilith Fair, and has toured with Elliott Smith and Ani DiFranco, with Ani having described her as "a melodically nimble being."
Danielle has rolled into 2017 with guns blazing, having most recently been on tour across the country with the Indigo Girls, and with a new live album recorded with her band. Four of Danielle's numerous albums have been released on Amy Ray of the Indigo Girls' indie label Daemon Records, with other releases on Simple Machines, Edisto Records, and Kill Rock Stars. Danielle's latest EP, Pot of Water, is out soon off the back of this most recent tour, and sits more as a collection of sonic experiments, pairing a number of different producers, studios, and techniques, including a track mixed by Grammy award-winning producer Malcolm Burn.
DANIELLE HOWLE ONLINE
http://daniellehowle.com
http://facebook.com/daniellehowlemusic
https://www.instagram.com/explore/tags/daniellehowle/
https://twitter.com/DanielleHowle
https://soundcloud.com/danielle-howle
https://open.spotify.com/artist/47ccQ7hKPvJRyBv97CACE1
HANS WENZEL & THE EIGHTY SIXERS
Not long after moving to Charleston, SC in June of 2015, Hans met up with guitarist Chris Fulmer at an all original open mic night called "Holy City Confessionals", held at Hometeam BBQ in West Ashley, Charleston, SC. From that time on, the two worked tirelessly to write new material and form a full working band.
It didn't take long to put together an all-star cast of musicians to round out the group, including Dan Wilson on Drums/Percussion (Deepwater Soul Society, Jordan Igoe, Kara Hesse Band), and Matt Thompson on Bass (Sol Driven Train, Wadata).
Together, the band has defined an edgy, vocally driven ensemble that embodies the true definition of story telling. With infinite inspiration from haunting tales of heroism, loss, love and personal growth in historic Charleston, SC, the group has quickly amassed a body of work that will draw you in to the old cobblestone laden, foggy backstreets of the South.
ONLINE
www.hanswmusic.com
facebook.com/hanswmusic
LOCAL HONEY
Solo musicians Eliza Black and Skyler Warf met in August of their eighth grade year at Charleston County School of The Arts. It was a year later when they decided to collaborate their talents for a local open mic they had been going to together. Their rendition of Wish You Were here by Pink Floyd went so well they decided to start learning more music together and going to more open mic's. From this sprouted Local Honey. This August will be their year anniversary as a band and they both agree it's been an amazing experience and has strengthened their friendship and musical skills vastly.
ONLINE
https://m.youtube.com/watch?v=wcPbyckP8c0
https://m.youtube.com/watch?v=N0TVL_jNrLk