Event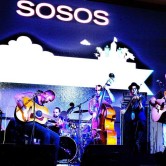 SOSOS
Venue:

Monday Afternoon

Doors:

6PM – 8PM
Free Show on the Back Deck 6-8
Displaying a diverse balance of talent that brews up catchy tunes, SOSOS captivates audiences with their smart musical melodies and lush vocal harmonies.
Unusual?.. Not really. But, you could say SOSOS is a band that strays from the usual because they solely base their music around acoustic root instruments.
Upright bass, pump organ, acoustic guitars, banjo, mandolin, djembe, drums, melodica, and even a box of rocks at times keeps SOSOS generating their own brand of energy even if the power lines go down!
Chris Monteleone, David Klein, Pete Vega, Ben Manburg, and Mitch Herrick provide music at its simplest form. Music from the root.
SOSOS has had the pleasure of sharing the stage with:
Blues Traveler, Donovan Frankenreiter, Michael Franti and Spearhead, G-Love and Special Sauce, State Radio, Richie Havens, Blind Melon, Yonder Mountain String Band, Trombone Shorty & Orleans Ave., Tim Reynolds & TR3, Rusted Root, The Lee Boys, Donna The Buffalo, Inner Circle, Bobby Lee Rodgers, The SubDudes, Orleans Trio, Poco and many more.
SOSOS music has made the back drop to many TV shows as well. PBS's "Roadtrip Nation" used four sosos songs in five different episodes. Other artists used in the show include Jack Johnson, Donavon Frankenreiter, Sufjan Stevens, Brett Dennon, Toubab Krewe, and Xavier Rudd. Networks such as NBC, WB and WGN America also found sosos music useful in some of their programs: "Friday Night Lights, Life, Jack and Bobby, and Around The World for Free".
SOSOS 3rd album is also in the works!!