Event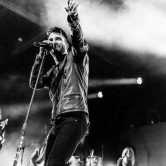 Southwood
Tickets are $12 …Available online or at the door…Door 9PM Show is 10ish
Ages 21 Up or with Parent
Since hitting the Charleston, South Carolina scene, Southwood has delivered hits that are honest and electrified. Mitch Wetherington and Henri Gates have got a sound in the alternative country/rock genre, charged by their southern roots.
https://www.facebook.com/southwoodband/
Mitch and Henri crossed paths in early 2011 while playing acoustic gigs at overlapping venues, yet neither knew what the future would hold once they started to play music together.
From July to December 2011, lead singer Mitch attended call back auditions for the 2012 season of American Idol. Upon his return from Hollywood, Southwood went from playing college bars to reaching bigger crowds at venues such as:
– The Windjammer (opening for artists Eden's Edge and Craig Campbell)
– The Music Farm (Charleston's biggest music venue)
– The Blessing of the Fleet Festival (attracts 10,000 locals)
– Hootie and the Blowfish's 'Hootie Homegrown Festival'
Southwood's energy is heart-felt and vigorous.