Event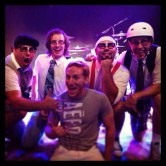 Spazmatics "80's Music-Nerd Comedy"
Tickets Available at Door
$8 at the door (Door 9PM)

80's music tribute and comedy. We'll talk nerdy to you all night long.
While rocking the College of Charleston in the early 80's, the band was deemed too dangerous, too cool, and too rocking to exist – because they looked too geeky. An evil mastermind tricked the band into trying out Scooter's time portal experiment which whisked the band members away. While they were gone, this evil character took all the Spazmatics songs and sold them one by one to Duran Duran, INXS, the B-52s and all the bands you think you love. In fact, you love the Spazmatics. The boys did travel through time and are back on stages in the Lowcountry, reclaiming their position as the coolest geeks of 80's rock.