Event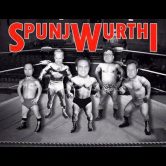 Spunjwurthi w/ Chewbacky
Ticket are $5.…Ages are 21up with a limited capacity…Doors are 7PM showtime is 8ish.
Long-running rock band with funky tendency to get weird. Imagine Tom Petty's Heartbreakers jamming with the Robinson Brothers, Frank Beard, Bill Withers, and the castaways from Bad Company … at a wild oyster roast.
Classic rock meets everything else … a joyfully loose conglomeration.