Event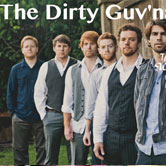 The Dirty Guv'nah W/ Tyler Boone
Tickets Available at Door
Tickets are $15 (Doors 9PM. Show starts at 10PM)
"Youth may be in their blood, but tradition guides their instincts", reveals M! Music and Musician's Magazine. "The Dirty Guv'nahs are wise in the ways of rock n' roll beyond their tender years". The swell of grassroots momentum for this 6-piece rock n' roll collective from Knoxville, TN is undeniable. "The Guvs" have been steadily growing their fan base across the country, selling out shows in theatres and bars alike, and making standout festival appearances at Bonnaroo, Wakarusa, and SXSW, to name a few. The band has also shared the stage with a diverse and notable list of major artists, including Wilco, Zac Brown Band, Levon Helm Band, Grace Potter and the Nocturnals, Train, Dr. Dog, and Chris Robinson.
After two independent releases and relentless touring, The Dirty Guv'nahs' new album, Somewhere Beneath These Southern Skies (Dualtone Music) raises the bar significantly for this explosive ensemble. Somewhere Beneath These Southern Skies was recorded in Nashville, TN with producer Ross Copperman and Grammy winning engineer Richie Biggs (The Civil Wars).
http://www.thedirtyguvnahs.com
http://www.tylerboonemusic.com/fr_intro.cfm