Event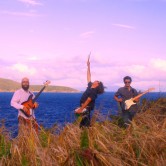 The Get Right Band
Venue:

Monday Night

Doors:

9:00 pm
No Cover 9PM
Pint Night
$3.75 Domestic
$4.25 Blue Moon, Summer Shandy & Redd Apple Ale
All in 16oz Cans
$1 Off all Pint Drafts
The Get Right Band
The Get Right Band – An Ass Shaking Good Time
We come together to dance, we come together to smile,
we come together to shake our bodies loose, to get wild.
From our voices, our skins, our wood, and our strings,
we bring vibrations to play and songs to sing.
The party is coming and it's coming for you…
we'll bring the boogie, you bring the crew.
The Get Right Band is a force to be reckoned with. Combining catchy, clever songwriting with musical expertise and fearless improvisation, the live show promises to make you shake everything you've got. From funk to rock n' roll to reggae, this is a dance party. This is an ass shaking good time.
According to guitarist/singer Silas Durocher, "The point of this band, the point of music, maybe even the point of life, is to find bliss and happiness. And sometimes to get closer to that bliss you have to pour your heart out about how it got broken, or you have to sing about the best times or the hard times, sometimes you have to rock out no holds barred, sometimes you have to take risks–in music or in life–and throw yourself into the unknown. That journey toward bliss is why this band exists."
Born out of Asheville, North Carolina's supergroup Soulgrass Rebellion, The Get Right band has been touring the East Coast and the Caribbean heavily since their inception in April, 2011. The band has rocked hard and jammed relentlessly every step of the way.
The Get Right Band's debut CD, Shake, is being released on February 22nd. The rock n' roll album features stripped down but creatively layered and produced performances of the band's original tunes. From the seductive blues of "Voodoo Doll" to the dance party vibe of "Chromaticize" to the Caribbean influenced "Touch The Holy," Shake passes through many genres while being held together by The Get Right Band's distinctive style. The album is fun, full of energy, and should be listened to with the volume turned way up.
The Get Right Band consists of Silas Durocher (guitar/vocals), Jesse Gentry (bass/vocals), and Chris Pyle (drums/percussion). The members of the band have played with many of the East Coasts greatest acts, including Laura Reed and Deep Pocket, Woody Wood, Josh Phillips, The Artimus Pyle Band, Scrappy Hamilton (now Truth & Salvage Company), Afromotive, and Royal Trux (Virgin Records), and have shared the stage with national acts such as Galactic, The Victor Wooten Band, Jeff Coffin's Mutet, Larry Keel, and Bobby Lee Rodgers.