Event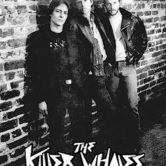 The Killer Whales
Venue:

Friday Night

Doors:

8PM – 1AM
A few tickets will be made available and will go onsale online only at 10AM Friday Morning…
Doors 8PM Opener 9PM Killer Whales 10:15
This Show kicks off our 45th Anniversary Weekend
The Killer Whales played their first show at Captain Harry's Blue Marlin Bar in Charleston in early 1980, and they quickly found themselves playing to enthusiastic audiences throughout the southeast. With the release of their first recording, the four-song "The Killer Whales", singer/songwriter/guitarist David Bethany, bassist Jim Blakeslee and drummer Murphy Pitts extended their reputation beyond the region. Their first full-length album, "Emotional Geography", released soon thereafter on Ripete Records continued the momentum and attracted interest from major record labels. As their fame grew, the Whales were tapped to open shows for acts such as Men at Work, Culture Club, Huey Lewis and the News, REM, Bonnie Raitt, George Thorogood and the Destroyers, and Cheap Trick in some of the biggest concert venues in the area. The band played showcases in Manhattan and Los Angeles, and appeared on Ed McMahan's "Star Search" TV show, all the while continuing a grueling touring schedule in clubs from Texas to New York. Their final release, "Big Bang", which featured some of the band's best work, came out in 1986, but the strain of years of touring took its toll, and the band ultimately broke up in 1987. The Killer Whales have regrouped several times since then, and they continue to win fans whenever they appear.
https://www.facebook.com/The-Killer-Whales-213231458707705/
Killer Whales story
The songwriter speaks about his band's legacy and reunion show
By T. Ballard Lesemann interviewed in July of 2012
David Bethany may be a mild-mannered therapist these days, but he spent nearly eight years during the 1980s as the singer, guitarist, and main songwriter for the Killer Whales, one of Charleston's most celebrated rock bands from that era. Nearly 25 years after the Whales performed their farewell show, the band's legacy as a sophisticated, diligent, and creative power trio is as strong as ever.
Bethany formed the Killer Whales in 1979 with bassist Jim Blakeslee and drummer Murphy Pitts. The trio initially worked up songs from a foundation of blues-rock, British Invasion, and Motown. The trio gigged regularly in the early '80s, playing such local haunts as Captain Harry's Blue Marlin Bar on the corner of Cumberland and State streets, Myskyn's Tavern on South Market Street, and the Windjammer on the Isle of Palms. Their mix of older and more modern rock, pop, and blues caught on. So did Bethany's original tunes.
The Killer Whales' final years involved a lineup changes. In 1985, bassist Tom Lentz replaced Blakeslee in time to record the band's final album, Big Bang. Things rolled along for another year, but they ran out of steam by the end of '87.
The original Whales reunited for one show in 1990, and they've reconvened sporadically every three of four years ever since. Increasingly, each show took on the spirit of a class reunion — a social event with old-school musicians and friends in attendance. As part of the Windjammer's summertime celebration of 40 years in business on the Isle of Palms, the Killer Whales will reconvene alongside three other classic Charleston acts. This week, Bethany is humbled by the hoopla but eager to hook up with his bandmates.
City Paper: I caught the band's last Charleston show in 2006 at the old Bert's Bar. It seemed like you were getting along great with you rhythm section, musically and personally.
David Bethany: The relationships have just endured so well. They're the only people who understand a certain part of my life fully, you know? I'm incredibly pleased and happy that we still get along so well, and it is a genuine pleasure to get together and play. The chemistry between us is unlike any I've had with anyone else. It was almost effortless from the start.
City Paper: What was the last Killer Whales reunion show like?
David Bethany: The last time we played together was three years ago in a small club in Greenville. We were too loud for the room, of course. It's amazing how well the arrangements are indelibly stamped in our DNA. We remember specific licks we used to play, and we hit the opening and final notes with no problem. The rust might be in the fingers, but the structure and arrangements are amazingly intact.
City Paper: At these reunion shows, does it take a few songs to warm up and really get things rolling?
David Bethany: When we're rehearsing, there are layers of rust that come flaking off, but when we stumble into the club and get going, that's the magic. It's like stumbling into a pool of mojo, like, "Ah, that's the deal."
City Paper: Some of the local musicians we spoke with last week who remembered the Whales in their heyday said they admired the band's originality.
David Bethany: The first songs we learned were really a wide variety of styles. But we never really did go for the request stuff. That was kind of a dividing line for us.
City Paper: Old-school fans and colleagues remember being impressed by the unusual achievement of the Whales releasing actual albums, too.
David Bethany: Back then, it was really an astounding thing to have a full-length album out on vinyl. Those records happened pretty quickly. Those records helped give us some credibility and get us established. The EP came out in 1981 on a small N.C. label called Moonlight Records. Label exec Chris Frank liked the Whales' style, and he thought we'd match well with some of the New Wave/rock Carolina-based bands on his roster. Then we did a full-length album for another North Carolina label called Ripete, which had a lot of beach music bands.
City Paper: It seemed like the Whales incorporated elements of the punk-inspired power-pop coming out of the U.K. and New York into a melodic, high-energy rock sound.
David Bethany: Up until we came on the scene, Charleston had mostly been most Southern rock, country-rock, and the tail-end of that trend. We sort of picked up on the wave and played our own stuff. The covers we did play were bands who weren't very familiar back then, like the Talking Heads and bands like that. It was a great time to be hitting that kind of music.
City Paper: By the time Tom Lentz stepped in as the bassist in 1985, the Whales had become well established. Why did it come to a stop?
David Bethany: Tom was a really good musician and a really good guy. I have very fond memories of Tom. It was hard to see where we'd get the money to do another album. By '87, we'd sort of run out of gas. We weren't getting the buzz that we'd had before, and we weren't getting the pull from the booking agents. We'd spent so much time together, we were like brothers, and sometimes we got pissed off at each other. We'd lost a bit of that initial motivation. It look a lot of hard work and slog to find some new spark and some new interest somewhere. We were tired, so we played our last show in November of '87. It was a tough but fairly friendly breakup.
City Paper: All these years later, the chops and chemistry seem to still be there.
David Bethany: Even though we're very different personalities, our rhythm and musical sense was unique. There were almost never any musical disagreements. I was always pleasantly surprised with what Murphy and Jim would bring in, and they often did the unexpected. It's a great combination.