Event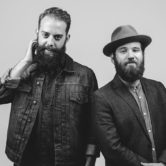 The Roosevelts W/ Katie Rose
Venue:

Friday Night

Doors:

9PM – 01:30 am
Tickets are $10…Doors 9PM Show 10PM
"It was President's Day. It was our first day in the studio. We had the songs, but we didn't have a name. There were two of them, and two of us. – I like to think they would have been fans of our music."
http://www.wearetheroosevelts.com
https://katieroseband.com
This playful statement from guitarist Jason Kloess certainly tells part of the story of The Roosevelts. Along with singer James Mason, the brothers in song – not blood, though maybe beards – have captured a sound that melds the musical history of America (Rock, Country, Blues, Folk). They've skimmed inspiration from each and created a sound that feels uniquely theirs, and no one else's. When forced to give it a name, the boys will tell you it's "harmony driven American rock, with a 70s sensibility." Other tastemakers are describing their sound as "warm, rootsy pop." Ultimately, you might have to decide for yourself.
"The Greatest Thing You'll Ever Learn" – which came out Apr. 22 – reached #5 on iTunes Singer/Songwriter Charts; placing them among some of their earliest childhood heroes including Simon and Garfunkel, Carole King, and James Taylor (whom James was named after)
The Roosevelts are a live band if there ever was one. Their show provides a rousing dance-worthy compilation of songs, but also features poignant tunes that scale the depth of their personality and communicate their story with remarkable power. Having a charismatic ability to connect with fans, and a delightful set of songs, concert-goers can't help but smile. Making The Roosevelts a band that music fans (of any genre) can't afford to miss. Catch them in a city near you.