Event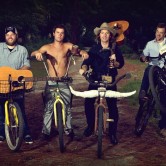 The Train Wrecks
Venue:

Thursday Night

Doors:

9PM

Tickets Available at Door
Tickets are $5 at the door. (Doors 9PM)
Hightest Quality Americana
Bio
A musical force from the moss-draped Old South, The Train Wrecks are a hard-working band of songwriters and performers who love nothing more than good songs and a good show. They deliver a dynamic, original blend of Americana- ranging from outlaw alt-country and bluegrass to rootsy rock and beyond, all with a distinctive Southern swagger.
Born in the vibrant bar and club scene in Savannah, GA, The Train Wrecks released their debut album, "Whiskey and War," in 2007. Rave reviews and a growing reputation as a must see live act helped the band to branch out to surrounding markets in the Southeast. They've since been steadily building a fanbase in clubs across the region, while also finding some bigger stages along the way. They've opened for legends like Jerry Jeff Walker and BB King, alongside an expanding roster of regular club and festival dates.
In 2011 The Train Wrecks released their second album, "Saddle Up." Building on their unique mix of Americana and rock, "Saddle Up" showcases the band's solid songwriting and astute musicianship- and some exciting new directions for their signature sound.
The summer of 2014 finds The Train Wrecks back in the studio recording what can only be described as a new direction in sound and attitude. The yet to be titled new album is in the mixing and mastering stage and is scheduled to be released in the fall of 2014 with a major tour of the southeast to follow.
On the strength of their latest recordings and growing regional presence, The Train Wrecks are poised and ready to significantly raise their profile as songwriters and performers by continuing to write and record great songs and win fans through relentless gigging.