Event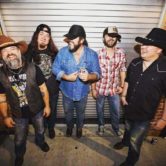 Greg Payne & The Piedmont Boys W/Sunflower and Sins
Venue:

Friday

Doors:

9PM

Tickets Available at Door
Tickets are $10…Door 9PM Show is 10ish
Whiskey soaked hard hitting real country made by native sons in the name of fellowship & rebellion
The Piedmont Boys started out in Greenville, SC in 2007. They've played thousands of shows, logged thousands of miles, released 4 albums, toured half the continental U.S., shared stages with everyone from Eric Church to Charlie Robison..hell, they've even played rodeos from Oregon to Texas. But wherever they go, the refrain of the fans who come up to them remains the same: "I never liked country music until I heard y'all."
What these folks must be talking about is the watered-down pop-country stuff you hear on the radio nowadays, because if you don't like REAL country…Merle, Willie, Waylon, Johnny…you won't like the Piedmont Boys.
If you don't like against-the-grain, outlaw brand, whiskey-soaked, blue-collar honky-tonk music, the kind where the volume and the energy are dead ringers for rock & roll but the sound is gritty hard-country, you won't like the Piedmont Boys.
If you don't like a live show that's pedal-to-the-floorboard, rock the place down to the dirt and drain every drop of sweat from every human being in the house, you won't like the Piedmont Boys.
If you don't like your Jerry Reed mixed with a little Metallica, if you don't like a band that loves playing live so much that they've had one weekend off in seven years, if you don't like country mixed with bluegrass mixed with southern rock mixed with a little…make that a lot…of Jack Daniels, you won't like the Piedmont Boys.
If any of that sounds like one hell of a good time, though, y'all come on in. The door's always open.
Sunflower and Sins
https://www.facebook.com/sunflowersandsin/
We grew up on the outskirts of the little town of Greeneville, Tennessee. Country and bluegrass oozes from the foothills of these mountains, and has become a huge influence for us. In high school, we became active in chorus and discovered the intricacies of harmonies and the basic music theory behind the songs we loved. Although college separated us geographically, we always managed to gather around a fire or a kitchen table during breaks and holidays with a good bottle of Tennessee whiskey to play new and old tunes we'd been working on. We moved to Charleston on a whim in hopes of spending more time with each other, our music, and of course, the ocean! Sunflowers and Sin is our first step into the expanding world of live music, and we'd love you to join us as we find our voices in the Charleston music scene!