Event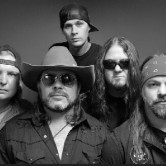 The Piedmont Boys W/ OUTSHYNE
Venue:

Friday Night

Doors:

9PM – 01:30 am

Tickets Available at Door
Tickets $10 available at the door (Doors 9PM…Show at 10PM)
The Piedmont Boys
We play Blue Collar Southern American Music and hail from Greenville SC. Giddy Up!
http://www.thepiedmontboys.com
The Piedmont Boys started out in Greenville, SC in 2007. They've played thousands of shows, logged thousands of miles, released 4 albums, toured half the continental U.S., shared stages with everyone from Eric Church to Charlie Robison..hell, they've even played rodeos from Oregon to Texas. But wherever they go, the refrain of the fans who come up to them remains the same: "I never liked country music until I heard y'all."
What these folks must be talking about is the watered-down pop-country stuff you hear on the radio nowadays, because if you don't like REAL country…Merle, Willie, Waylon, Johnny…you won't like the Piedmont Boys.
If you don't like against-the-grain, outlaw brand, whiskey-soaked, blue-collar honky-tonk music, the kind where the volume and the energy are dead ringers for rock & roll but the sound is gritty hard-country, you won't like the Piedmont Boys.
If you don't like a live show that's pedal-to-the-floorboard, rock the place down to the dirt and drain every drop of sweat from every human being in the house, you won't like the Piedmont Boys.
If you don't like your Jerry Reed mixed with a little Metallica, if you don't like a band that loves playing live so much that they've had one weekend off in seven years, if you don't like country mixed with bluegrass mixed with southern rock mixed with a little…make that a lot…of Jack Daniels, you won't like the Piedmont Boys.
If any of that sounds like one hell of a good time, though, y'all come on in. The door's always open.
OUTSHYNE
Outshyne is a country band who hales from South Carolina. Their music has a country feel with rock overtones. Originally formed in 2007, of high school friends playing after work. In 2010 they turned their passion for music into a full time endeavor, doing 150-180 dates a year. Since then their success keeps growing!
They have opened for country music superstars including, Jake Owen, Eric Church, Lee Brice, Colt Ford, Joe Nichols, Gary Allen, and Justin Moore to name a few, Waylon sang the National Anthem at the NASCAR Sprint Cup in Darlington, SC in 2013, raised over $130,000 for St. Jude Children's Research Hospital, and played on the Hard Rock stage for CMA Fest.
Their first single "Dirt Road Romance", written by friends Florida Georgia Line and Arlis Albritton, went to #29 on the Music Row Chart and #46 on the Billboard Indicator Chart. The album titled "Starting Over" was produced by Grammy nominated Chip Matthews and hit song writer Jeffrey Steele, and debuted #11 on iTunes the day it was released.
The bands second single "Moonlight Crush" hit #1 on Sirius XM's The Highway Countdown and also was the stations #18 song of 2014. The two singles combined have over 100,000 downloads and over 1 million youtube views.
In January, 2014, Outshyne signed with Sony Red, and are featured on CMT's website. Sept. 2014 signed a booking deal with the famed Buddy Lee Attractions.